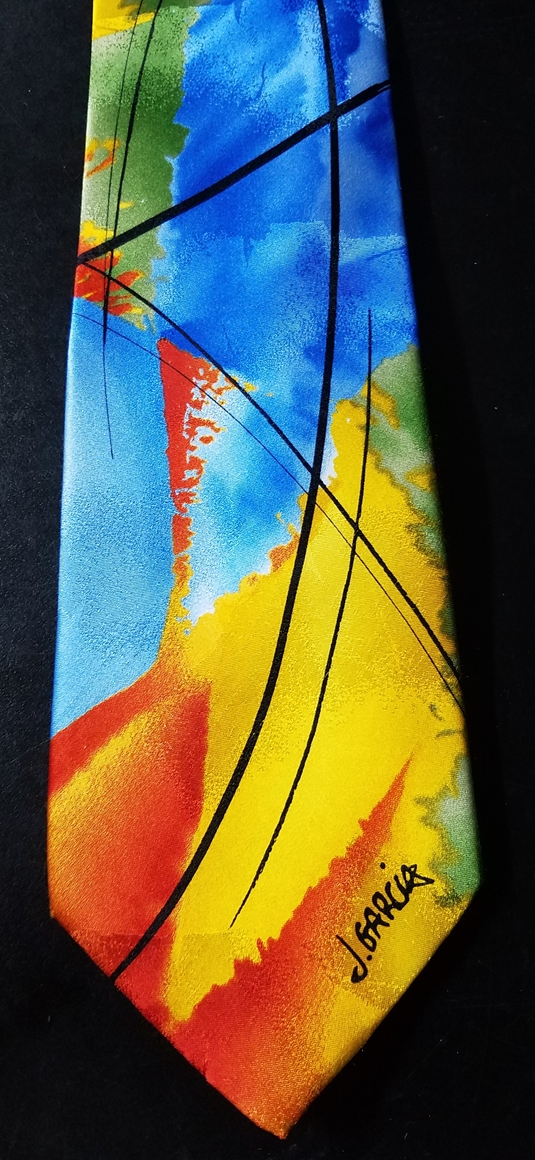 A Jerry Garcia tie. Photo credit: Matt Seinberg.
I, like most men, hate wearing neckties. Yet, for the past 10 years, I must wear a tie for work. When I first interviewed for my current sales job, I made sure it was okay to wear what I refer to as "fun ties."
---
There's nothing like a fun necktie.
---
The manager, interviewing me, asked what I meant by fun. I explained that I had many character ties from Disney, Star Trek, Star Wars, Warner Brothers and other assorted things. She looked at me as if I were wearing three neckties, but said it would be fine.
I will not pay more than $10 for any tie, as since ties really do not have a long life span. The length and width change all the time, but I really don't care, and neither do the people that have to look at them.
The very first character tie I got was around 2001. An employee, at the mall store I was managing, gave me a Star Trek original cast tie for the holidays. She knew I was a Star Trek fan and she nailed the perfect gift. I don't even remember what I gave the staff that year it was so long ago.
From there, my collection just grew. I picked up some more Star Trek ties on my own, all of them from e-Bay. If you know what you're looking for, what full retail prices are and do your research, you will find a good price on e-Bay.
Star Wars was another movie series I always enjoyed. I have the original cast poster from the first movie. I decided I wanted a tie of that poster and again found that and some others on e-Bay.
Recently on vacation, we visited Grand Turk. There was a Margaritaville Café there. I knew that I wanted a t-shirt, but didn't think about a tie. I did buy a cool light blue t-shirt and got a free margarita with it. It was a good deal.
Just this month, I decided I needed a Margaritaville tie. Once again, I went on e-Bay and found one that I liked, a great deal. I have colourful shirts, margaritas, palm trees and parrots on it. For $10, with free shipping, I couldn't pass it up.
---
Dead man ties.
---
The other ties that I really like are Jerry Garcia designs. You ask, how can a dead man design ties? I wish I had the answer. My guess is that they come from his artwork, with new designs my nameless artists that work for the company.
My first one has to be close to seventeen years old. The back frayed; the seams separating. I'd like to get it repaired, but the cost would probably be more than I paid for the tie.
One of our local department store chains used to carry the Garcia ties for $10 each, when every other store has them for $30. Occasionally, when I was in the area, I'd stop in and get three or four of the Garcia ties.
During one of these trips, there were no more Garcia ties! I was quite disappointed, to say the least. I went back one more time a few months later and still no more Garcia ties.
I did find a six-piece collection on e-Bay for roughly $30. That's a great price and even though used, the ties were all in great shape. Out of the six, I really liked four. The other two were so-so. If I had seen them in a store, I wouldn't have bought them.
---
I discovered how to get more Jerry Garcia ties from a manager at work.
---
One of the managers, where I work, also has some Garcia ties. After I went way over his head on something, he made me a deal. He said that if I went to him first going forward, he would give me that tie that I liked. "It's a deal," I said. A week or so later, there it was in my mailbox.
Now almost every time he comes in, he has on yet another new Garcia tie. I told him one day I'm going to raid his closet. He chuckled, not knowing if I really meant it or not.
At the top of the page, you'll see some of my favourite ties. I hope you have some at home you enjoy as well.