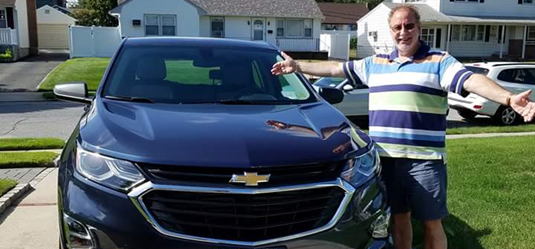 There's nothing more stressful than shopping for a new vehicle, a new car or truck. In our case, we needed a new car. Melissa, my daughter, is going to a local college and needs a car. She got my 2010 Mazda 6, with 57,000 on it; it runs great. Now I need a new car.
---
Keep, sell or trade.
---
Since Melissa is only staying home for two years, I figured I'd lease a car for that time. When she leaves, I turn in the lease and keep the Mazda, sell it or trade it in towards another new vehicle for myself. I was strategizing.
What was I going to get? I told my wife that she could pick her car and I'm picking mine, so please don't even make any suggestions. For the past few months, I have been watching the advertisements for the Chevy Equinox (above), which is a cross over SUV. The price of $99 a month, on a lease, was appealing.
Even though the advertisements claim there's no money down, that's not entirely true. The fine print demands the lease payment for first month, the taxes, the tags and the registration as well as bank fee are required on delivery. In my case, that came to about $2000.
The fine print also states that to qualify for the lease, the lessee has to have at least an 800 FICO credit score and a competitive lease to qualify for all the rebates. Luckily, I have both. More strategy; read the fine print and go in prepared.
I had made an appointment with a salesperson, Gina, at the dealer in Huntington, New York. I read of her on Google Reviews. My appointment was for 11:30 am "ish," only because my other daughter, Michelle, was coming with me; she had a phone interview at 10:30.
We got to the dealer at 11:33 am. Gina sits right at the front door. As I walk in, she says, "You must be Matt. I just tried calling you." I told her to read the note that mentioned the "ish." To me, it's all about the "ish."
Before I could say, "A test drive is a must," a white Equinox was parking outside the showroom. I didn't need to ask. Gina was a step and a half ahead of me.
We get in, take a couple of turns and, finally, there's a straight road where I can hit the gas and get the turbocharged engine spooling up Michelle says, "Dad, what are you doing?" I laugh and tell her I'm testing it out. Zoom! Zoom! Zoom!
Long story short, this was the easiest car-leasing experience. Gina was great. In fact, she called, yesterday, to see how I liked the vehicle. "I love it," I said. "It handles well, the air conditioning is cold and so far the gas mileage is good."
---
Negotiating at a higher level.
---
Why can't the purchase of two new 747-8 aircraft, new Air Force Ones, be this simple? In 2016, President Trump said $4 billion for two planes was too expensive. "The order should be cancelled," he said. The current Air Force One planes are thirty-two years old, but rated for only thirty years? If I were the president, I wouldn't be quibbling over price, as my life depends on those planes.
Do you know what President Trump negotiated as the new price for those two planes, made by Boeing? Now the planes are only going to be $3.9 billion dollars. Wow! How is he going to spend all that money he saved? It certainly won't go towards funding education, since the Secretary of Education Betsy DeVos is a complete moron that it ready to strip our schools of anything worthwhile.
The irony is President Trump won't step foot, as commander-in-chief, in those new planes because it takes the Air Force three years to test and approve each one. With any luck, President Trump won't see a second term. President 46 will enjoy the comfort and security of those new planes.
---
Gina knows the real art of the deal.
---
What I'd like to see is President Trump walk into the Chevy dealership and talk to Gina. She would kick his fat rear end from one side of the store to another, if he were disrespectful. I would pay to see that negotiation.