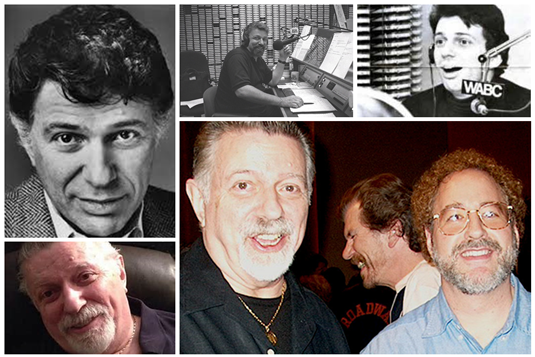 Dan Ingram with Matt Seinberg 26 September 2002
Dan Ingram, the All American radio DJ, passed away 24 June 2018; he was 83 and lived in Fort Lauderdale, Florida. Much as those nameless actors seen in movie after movie, millions knew the voice of Dan Ingram, but not the radio super jock unless, of course, they lived in New York City. Ingram was on WABC-AM, when it was a Top 40 pop and rock powerhouse, and, years later, on the classic rock and pop station, WCBS-FM.
---
"Irreverent," the New York Times called Ingram.
---
For most that heard his radio show, Dan Ingram was the best Top 40 disc jockey (DJ) of all time. He was the voice of HBO as well as countless television and radio commercials. He mastered the one-liner and the double entendre. The Times described him a "quick-thinking, somewhat bawdy jester [that] mocked songs, singers, sponsors and the weather," on his way to the highest radio ratings.
These adjectives describe Dan Ingram in a general way. On a more intimate level and through his work, he influenced more young people than do most on-air personalities. This was his most important contribution.
Dan Ingram was radio royalty. He was the winner when competition for most influential DJ, as well as the listeners that went with the title, was tough and rough. The WABC-AM line-up included A-listers, such as Cousin Brucie and Harry Harrison. Joey Reynolds was always challenging for top DJ, wherever he worked. Wolfman Jack, Dick Summer and Howard Stern worked WNBC-AM, also in New York City. Dan Ingram beat them all.
Ingram was the best. William B Williams, on WNEW-AM, was the best for an earlier generation of listeners. Ingram was the best for the boomers.
Born in Oceanside, New York, on 7 September 1934, Daniel Trombley Ingram began at the Hofstra University radio station, WHCH. He worked WNRC-AM, in New Rochelle, New York, and WALK-FM, in Patchogue, New York, before moving to stations in Connecticut, Dallas and St. Louis. He joined WABC-AM on 3 July 1961, roughly when its Musicradio 77 format and imaging began.
---
WABC-AM, led by Ingram, ascended quickly.
---
In 1963, the station was number two. It was most popular in the suburbs, but WMCA-AM owned the city, proper. Yet, WABC-AM had the teenagers, with transistor radios glued to their ears, which advertisers coveted.
When I was in 4th grade and living in Poughkeepsie, New York, roughly eighty miles from the City, WABC-AM 770 was the radio station. With is 50,000 watts, of clear channel power, from a tower in Lodi, New Jersey, the station boomed into Poughkeepsie during the day and across the country at night. College students in Ottawa, Ontario, roughly four hundred miles north of NYC, pulled into parking lots before evening classes, Dan Ingram blasting from their car radios. Such was the power of the WABC-AM frequency and the appeal of the man.
I would race home from school to do my homework to WABC-AM. At that age, all the songs Ingram played were my songs. Never mind that my parents didn't like the music, it was my radio, in my room. I didn't care what they thought and the ever-irreverent Dan Ingram reinforced my belief.
Guided by programme director, Rick Sklar, WABC-AM had a short, tight Top 40 playlist. It didn't matter that the same songs repeated, often. What Dan said between the records was important, most important, to listeners. It's what kept me tuned through the endless commercial, news, weather and sports breaks.
Did he know his audience was aged from 10-to-18 years old and their parents hated the music? Did he realise many listeners didn't get his jokes? Did he care? He was the number one DJ, in New York City, on the most popular afternoon drive show in America.
DJs, the personalities, make or break the station. Once, they are the glue that held the station together. Dan Ingram was the voice and face of WABC-AM. He had a major role in holding the station together.
Ingram joked, on air, that WABC-AM was so popular that it ranked tenth in radio ratings for Pittsburgh, Pennsylvania. That's a monster radio signal. Only a handful of stations, such as WBZ-AM, in Boston, Massachusetts, had matching signals or listener appeal.
His ratings were resilient. Walt "Baby" Love, at KHJ-AM, in Los Angeles, would challenge Ingram for ratings leadership, in America, and place second most of the time. Once, Jim Jackson, at CKLW-AM, the Big 8, in Windsor, Ontario, beat Ingram, but only once. Otherwise, for twenty years, Ingram ruled radio.
Ingram left WABC-AM on 10 May 1982, when the station dropped its tight-playlist, personality-centric Musicradio 77 format. According to the Times, Ingram signed-off saying, "The [honour] group of the day, my friend, is you, because if you hadn't listened I would never have been here." More than twenty years, at the top, on one station, in the competitive New York City market, is remarkable. Dan Ingram was remarkable.
From 1982 until October 1993, when he joined classic rock WCBS-FM, Ingram did voice-over work and commercials. "I'm lucky as hell that there's a place in New York where I can peddle my wares," he told the Times. At WCBS-FM, he did weekends. As his contract was ending, a pay dispute arose. Thereafter, Ingram only worked on Saturday afternoon. He left the station in June 2001.
The "free-wheeling, smart-alecky [style, of Dan Ingram] had its moments of anxiety." In 1992, Ingram told the Times, the on-air life of a DJ was a mix of "moments of terror interrupted by long periods of utter boredom. You talk for 10 seconds, the music plays; you've … nothing to do" for nearly three minutes, maybe more.
There's no market, today, for elderly DJs, Ingram told the Times, in 2002. Today, corporate radio doesn't care about the DJ, the personality. Today, it's all about rolling the music and commercials. Today, it's about revenue, keeping costs down and avarice.
If there is a Dan Ingram on the air somewhere, I haven't heard of him or her. Moreover, he or she has a heck of a mountain to climb. I wonder if Ingram could find a place in radio, today.
Dan Ingram made me want to be a DJ. Unfortunately, he didn't tell me about the nomadic lifestyle, low pay and the constant threat of losing your job. No, Dan just made the life of a DJ seem rock and roll glamorous.
I met Dan in 1977, when I was in college. I don't remember how it happened, but my friend, Steve Singer, from WNYT, recently reminded me that's when it happened. I don't know why we were at WABC-AM. I'll take Steve's word that we were.
Some place, there is a picture of Dan and me by his microphone. Steve took the picture, but it's long gone. I'm sure I had seen Dan other times when I visited the DJs at WPLJ-FM, which was down the hall from WABC-AM.
If I was visiting Pat St. John, he always took me over to see Dan. Dan always had a great smile and a big laugh for visitors. He was always courteous, as long as you didn't over stay your welcome.
I saw Dan at various events held at the Museum of Radio and Television (MTR), which is now the Paley Center for Media. Atop this column is a picture of Dan and me from 26 September 2002. We were at a tribute to Scott Muni, another radio legend. I attended because I donated some airchecks for that tribute. It was great not only to see Dan, but also his fellow DJs, such as Chuck Leonard, Pat St. John and many others.
I remember being in my aisle seat, at the Muni tribute. Out of the corner of my eye, I saw this fellow, in black, sit down opposite me. It was Dan. I gave a quick wave, which he returned. When I talked with him, afterwards, I asked if he remembered my visits to WABC-AM. He gave me a smile and nod, but I doubt he did; courtesy was his part of his stock and trade.
Roughly, three years ago, Chris Ingram, son of Dan, gave me an address to write Dan. I intended to tell him of my web site, bigappleairchecks.com, as well as how much he meant to me, how inspiring he was, over the years. I kept that piece of paper on my desk, but never wrote to him. Now it's too late.
---
The greatest American DJ is gone.
---
When Dan Ingram passed, on 24 June 2018, there was an audible hush up and down the east coast of North America, as far west as Chicago and around the radio world. Ingram had Parkinsonian's, diagnosed in 2014. Shades of Skinny Ennis, Ingram died after choking on a piece of steak.
Ingram is now pulling shifts with his WABC-AM teammates, Chuck Leonard, Herb Oscar Anderson, Charlie Greer and Jay Reynolds under the guidance of programme director, Rick Sklar, on a heavenly radio station, WGOD-AM.
Although Dan is gone, his voice and talent live forever. Click here for a roughly twelve-minute, composite and scoped air check of Dan Ingram on (1) New Year's Eve, 1968, and (2) WCBS-FM weekends. The WABC-AM air checks courtesy of Ron Parker, afternoon DJ at WLS-FM in Chicago, a dedicated air checker of Ingram. The WCBS-FM air checks are from the personal collection of the author.
Big Apple Airchecks is producing an air check tribute to Dan Ingram. Anyone that worked with Dan is welcome to contribute a recorded story, memory or anecdote. My email is matt@bigappleairchecks.com.