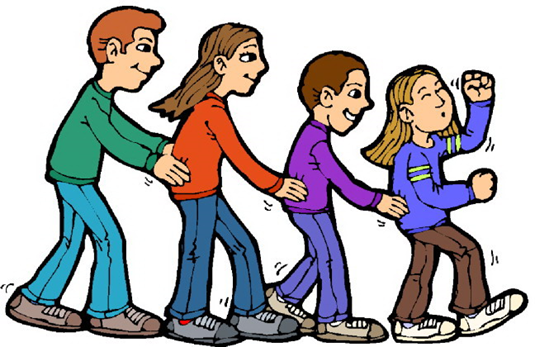 The Casseroles, c. 1967, performing an original move
that would be copied by at least one major pop band.
Justin Bieber may have cut short his world tour, but even bigger news, for the County, hit late last week. The Casseroles are throwing in the towel. They're cancelling the balance of their ambitious 2017 "Burnt Offering" world tour.
---
Tour cancelled due to health concerns.
---
The beloved ensemble, who all hail from the Bowerman's Corners area, in the County, announced their decision last week, in a hastily called press conference at the historic Royal Canadian Legion Branch 160, in Wellington. Reading from a prepared statement, band manager, Randall "Oobie" Doobee, told the assembled media, "The pressures of touring have just gotten to the bandmates and their health has to come first."
In response to a question from this Times reporter, Doobee noted the band had been together for about forty years and "now that they're drawing Old Age Security, the motivation is a little less strong." He refused to confirm a rumour that tensions within the band had grown to the point where further performances were impossible. All he would say was, "We're like a family and any family has its ups and its downs."
The world tour had started in Wellington and followed an exhausting pace that took the band to Carrying Place, Consecon, Hillier, Bloomfield, Picton, Cherry Valley and Milford, in the space of three months. Scheduled dates in Demorestville, Waupoos and East Lake will fall victim to the decision. "We even had a date booked for Adolphustown," said a rueful Doobee, "which would have added to our bottom line quite significantly."
Rumours of tensions within the band first broke late last year, when drummer, Dave "Curly" Mowe, publicly complained about his colleagues in an interview with "Ontario Musician" magazine. "We've been playing "Pretty Woman" for four decades and the [expletive deleted] lead guitarist still can't get the riff right. If I have to play that song with him one more time, I think I'm going to throw up." Mowe subsequently showed up at a gig in Northport with a heavily bandaged nose.
In the interview, Mowe also acknowledged that the band was getting "a little long in the tooth" and "a little short in the fuse" and would have to think about cutting back on both its relentless touring schedule and its working repertoire. It is widely rumoured that Mowe has recently been telling friends he wants to spend more time with his collection of antique dental flossing equipment, and that the band's breakup was at his initiative.
---
The name, The Casseroles, is an allusion for a one-pot meal of blended ingredients.
---
The Casseroles began after getting together in Doobee's basement, in 1964, when they were all in high school. The name for the band came to him in a dream, he says. "A casserole is a one-pot meal, where all the ingredients are blended, just like we aspire to be as musicians; so it just seemed perfect. Well, I'm not a musician. I'm the manager. Besides, it was my basement they were using." Some expect pressure on County Council to declare the basement, now rented as an Airbnb suite, a regional historic site.
All the original members of the group are still with the band. In addition to Mowe, the band features lead bassist, Gord "Goodness" Gracious, rhythm guitarist, Phil "Toothache" Dent and lead guitarist, Richard Hamm, who, for some, reason doesn't have a nickname.
Using 1950s and 1960s rock and roll music as the foundation of its musical legacy, The Casseroles are best known for 'cover' versions of such obscure gems as "Satisfaction," "Brown Eyed Girl," "Twist and Shout," "House of the Rising Sun" and three or four others songs. At various time, The Casseroles experimented with progressive rock, disco and rap; few of their performances in these genres have made it into the public domain. The band would occasionally play an original song, but never found much of an audience for songs with which their public was not familiar.
At one time, the band had invited a local musician, Jim Lemon, to join them as vocalist. That arrangement fell apart when Lemon insisted on bringing his girlfriend, the Big Island experimental performance artist, Toko Oyeah, along. "Let's just say she tried to put her stamp on us, but we stamped it out pretty quickly," said Mowe in the interview.
---
No greatest hits CD planned.
---
Fans are left devastated by the news of the decision to break up The Casseroles. One admirer said, in a post on Twitter, ''OMG. I used to LOL when I saw them with my BFF." Doobee acknowledged in the press conference that the band has considered one final farewell gig, but he doubted that any facility in the County would be large enough to accommodate everyone who really wanted to be certain that the band was playing for the very last time. There are no current plans for a "Casseroles' Greatest Hits" album.
Doobee is not standing still. He has auditioned two ten-year-olds from Glenora, whom he touts as being "hotter than Sonny and Cher." Justin Bieber had better watch his back.
Some readers seem intent on nullifying the authority of David Simmonds. The critics are so intense; Simmonds is cast as more scoundrel than scamp. He is, in fact, a Canadian writer of much wit and wisdom. Simmonds writes strong prose, not infrequently laced with savage humour. He dissects, in a cheeky way, what some think sacrosanct. His wit refuses to allow the absurdities of life to move along, nicely, without comment. What Simmonds writes frightens some readers. He doesn't court the ineffectual. Those he scares off are the same ones that will not understand his writing. Satire is not for sissies. The wit of David Simmonds skewers societal vanities, the self-important and their follies as well as the madness of tyrants. He never targets the outcasts or the marginalised; when he goes for a jugular, its blood is blue. David Simmonds, by nurture, is a lawyer. By nature, he is a perceptive writer, with a gimlet eye, a superb folk singer, lyricist and composer. He believes quirkiness is universal; this is his focus and the base of his creativity. "If my humour hurts," says Simmonds,"it's after the stiletto comes out." He's an urban satirist on par with Pete Hamill and Mike Barnacle; the late Jimmy Breslin and Mike Rokyo and, increasingly, Dorothy Parker. He writes from and often about the village of Wellington, Ontario. Simmonds also writes for the Wellington "Times," in Wellington, Ontario.
More by David Simmonds:
Tell a Friend
Click above to tell a friend about this article.