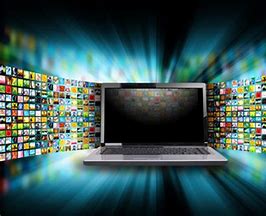 Source: real.com
I have been pondering for over a week what I wanted to write. The subjects included Covid-19, the supply chain shortages, the hot summer weather and streaming services. I decided to go with streaming services.
Chance to watch a great deal of television.
Why you ask? Well, as I've been home recovering from back surgery in May, I've watched a great deal of television. I've also read many books, too. I also worked on converting many cassette tapes to digital formats.
I'm just not lazy; I have many interests. My other main interest is HO slot cars, but it's too hot in the basement during the day to race and tune the cars and track. At night, I'd rather be in my air-conditioned room with a cat or three and my wife.
We have Netflix, which we get it discounted through T-Mobile; Amazon Prime, which, yes, is $120 a year, but I order enough from them to justify it; Disney+ because my girls wanted it; Hulu, which daughter Melissa gets for free for subscribing to Spotify and HBO Max, which we get for free because we subscribe to regular HBO. I also have an app called Cinema HD on the Firestick that gives me free movies and television shows; I don't know how or why and don't care.
Last week I watched Black Widow, which is currently in theatres and on Disney+ for $29.99. It's the origin story of Natasha Romanoff before she became an Avenger. I was really looking forward to it; yes, Scarlett Johansson is so beautiful, but beauty doesn't make a film.
I'm currently watching the television series. Warehouse 13, which originally aired on what was then the SyFy network from July 2009 to May 2014. Currently I started season three. My limit for any series is two in a row, though I may watch two in the morning and two later at night. This streams through IMBD and Peacock.
IMBD is owned by Amazon and runs commercials, so it is considered a free service. Peacock just came onto Firestick and boy am I disappointed. It seems there is nothing free to watch.
I was in the mood for some old wrestling documentaries. These are locked, by Peacock, unless you pay $4.99, with commercials or $9.99 a month, without commercials, to unlock. I'm going to pass on that one.
On Prime, I watched a series starring Ashton Kutcher, Sam Elliott and Debra Winger called The Ranch. I almost didn't finish it because the description from Wikipedia painted such a depressing picture of the last season. My curiosity got the best of me and I finishrf the series, which I enjoyed and do recommend.
On Prime as well is The Marvelous Mrs. Maisel" My wife told me she heard about it and wanted to try it. We did.
We managed to watch two episodes of Maisel, at a time. We blew through the first season very quickly and then devoured the second and third seasons when they came out. Season four probably isn't coming out until January 2022.
Boardwalk Empire redux.
HBO had Boardwalk Empire starring Steve Buscemi, which I watched every Sunday night, in it's first airing. I started from the beginning and watched all the episodes, again. A truly well-done series, even if it's a death-fever-dream.
HBO has The Newsroom, starring Jeff Daniels. I watched it on demand years ago; I loved it. I streamed it from HBO Go and it was even better than the first time around. This is a show that demands you care for the events, issues and people.
Westworld is also on HBO, based up the 1973 movie of the same name, but it doesn't have much of anything to do with that low tech movie. The first season, The Maze, was awesome, giving a great deal of back story and character development. Season two, The Door," took season one further and introduced new characters. Season three, The New World left everything behind and turned into a dark, depressing dystopian society. I wonder what season four will bring.
On Disney+, I have explored wide and deep, finding some true gems to watch. There are series about the people behind the scenes called The Imagineers. This show includes a biography of Walt Disney and the people that worked for him, including the Sherman Brothers who composed music for many of his films.
Disney+ even have a series about The Animal Kingdom, which highlights different animals and how they are cared for. If you like any of the zoo shows currently on, this is a must watch.
Of course, there is original Disney movie content, both animated and live action. We watched the Disney/Pixar movie Luca a few weeks ago and truly enjoyed it.
Then there is all the Marvel content, on Disney. You can watch the Avenger movies in chronological order or what they call Phase Order. There are currently four phases; the last one ended with Avengers: Endgame. I suggest watching them in chronological order, it's much easier to follow what's going on.
Then there is The Smithsonian Channel, which has one of my favorite series, Aerial America. It's an airborne story of our country and cities, set to relaxing music and smooth-voiced Jim Conrad on narration. If I really need help going to sleep, I'll watch this. They also have Aerial Cities, Aerial Britain, Aerial Greece and Aerial Africa. One day I'll get to those.
Oh, yes, there's also a series focused on the Tower of London that running on The Smithsonian Channel. I can only take one episode at a time because it's kind of dry. Still, it's interesting.
If you like speed, there are some great series focused on Formula 1 racing airing on both Netflix and Prime. As a kid, I wanted to be a race car driver, which is why my grandparents gave me the Aurora HO racing car sets. I can still hope.
On Netflix, I've watched The Queens Gambit, Shelby American and all the Marvel series which were cancelled. Hopefully, the Marvel shows will move to Disney+ eventually.
Going through the menus of these services is like trying to order dinner at a restaurant. There are some many choices that make your eyes water and stomach gurgle. Making a choice is not always so easy.
One thing I do if I don't like something is just turn it off. Period. I don't have the patience to invest in something I don't like.
This is especially true if it's a movie that was in the theatre. My wife always asks, would you have paid to see that? If the answer is no, I'm glad we didn't go to the theatre.
The future is more and more streaming services.
There are so many more streaming services out there with not only new content, but massive amounts of library content. Maybe one day I'll go exploring with a free trial. The future is here; it's called streaming.as