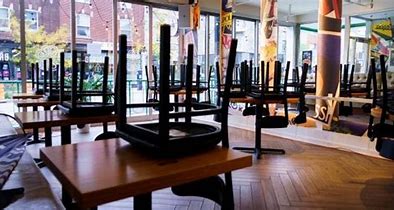 Source: reddit.com
What did you do last Wednesday or Friday? Did you go hog wild in celebration because our area, the Hastings and Prince Edward public health unit, was tied with the Renfrew unit and the Kingston, Frontenac and Lennox and Addington unit in the race to be first out of the lockdown gate? Did you go into a restaurant and order a sit-down plate of hot buttered toast, just because you could?
Before our lockdown was lifted.
The party spirit was dulled somewhat by the Section 22 order, from our local medical officer, Piotr Oglaza, that came the day before stay-at-home was lifted. It prevented accommodation providers, restaurants and personal service providers in our area, as well, from serving anyone from another zone that was subject to a stay-at-home order. Thus, Torontonians can't come to restaurants in Prince Edward County to order their own hot buttered toast; they will just have to smell it from a distance.
Nor are we free of other restrictions. We are still subject to the "green zone" rules. We must stay home if we have Covid symptoms, stay two metres apart form people with whom we don't live, wear a mask in indoor public spaces and avoid non-essential travel. We must limit our close contact to members of our own household.
Indoor social gatherings are limited to ten people. Restaurants can't serve food buffet style or seat more than six people at a table. Worse still, we can't go to our local casino and play poker, blackjack or roulette, those games everyone plays to round out a normal life.
At least Prince Edward County is not plunged back into the yellow, orange, red, gray or lockdown zones, with their progressively stringent limitations. Yesterday, for example, the Leeds Grenville and Lanark area went green; Peterborough went yellow; Ottawa went orange; Simcoe Muskoka went red. The fate of the four regions that are still subject to the stay-at-home order, North Bay Parry Sound, Toronto, York and Peel, hangs in the balance and is to be determined by 22 February.
Politicos will hesitate to pull emergency brake.
Premier Rob Ford and Dr David Williams, chief medical officer of health for the province, said they would not hesitate to use the emergency brake that could pull us back into a more restrictive zone or even issue another provincial stay-at-home order should cases spike. With so few cases to serve as a baseline, an outbreak in our area could quickly wreck our numbers and lead to one of those results.
I suspect the government has loosened restrictions, now, because it realises people can't sustain an indefinite lockdown. They need to catch their breath before they tackle the next wave of Covid presented by the emerging variants of concern. In answer to a question at his press briefing last Monday, Dr Steine Brown, of the University of Toronto School of Public Health, talked of the near certainty of a fresh wave of infections caused by these variants.
In addition, the vaccine won't be available to many of us for another three of four months or more. Thus, I am fearful that things will worsen. We won't stay in the green zone for very long.
I also confess to having a sense of personal guilt on two fronts. One, I confess to having a feeling of liberation in having my personal freedom of movement curtailed. Stuck in my house, I didn't have to think about whether to go out and what I would do if I went out. My only choice was just to stay home. Mind you, I would no doubt think differently if I had a school age child at home to parent and tutor or a housebound senior to care for.
COVID-19 is costly.
Two, I have asked why I should expose myself to the risk of closer and more frequent contact with others, just because I can. Yet, I can't believe that I might even contemplate not associating with friends with whom I had happily shared personal space in the innocent pre-Covid era. Isolation is costly.
[Editor: before this article published, Ontario went into lock down followed, closely, by stay-at-home until the end of April. COVID-19 variants know no limits, social or biological.]
Some readers seem intent on nullifying the authority of David Simmonds. The critics are so intense; Simmonds is cast as more scoundrel than scamp. He is, in fact, a Canadian writer of much wit and wisdom. Simmonds writes strong prose, not infrequently laced with savage humour. He dissects, in a cheeky way, what some think sacrosanct. His wit refuses to allow the absurdities of life to move along, nicely, without comment. What Simmonds writes frightens some readers. He doesn't court the ineffectual. Those he scares off are the same ones that will not understand his writing. Satire is not for sissies. The wit of David Simmonds skewers societal vanities, the self-important and their follies as well as the madness of tyrants. He never targets the outcasts or the marginalised; when he goes for a jugular, its blood is blue. David Simmonds, by nurture, is a lawyer. By nature, he is a perceptive writer, with a gimlet eye, a superb folk singer, lyricist and composer. He believes quirkiness is universal; this is his focus and the base of his creativity. "If my humour hurts," says Simmonds,"it's after the stiletto comes out." He's an urban satirist on par with Pete Hamill and Mike Barnacle; the late Jimmy Breslin and Mike Rokyo and, increasingly, Dorothy Parker. He writes from and often about the village of Wellington, Ontario. Simmonds also writes for the Wellington "Times," in Wellington, Ontario.
More by David Simmonds:
Tell a Friend
Click above to tell a friend about this article.