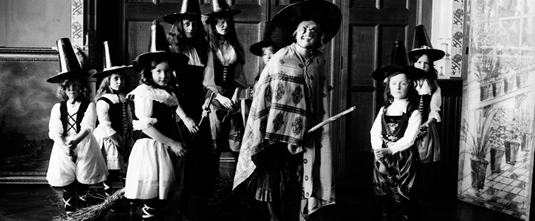 Frustrated with its lack of success using conventional methods to eradicate COVID-19, the Liberal government of Justin Trudeau is said to be eyeing new funding. The funding is $50 million. The money is mostly for alternative approaches to the neutralization of the coronavirus.
The Desperate Measures Fund
Known, among insiders, as the "Desperate Measures Fund or DMF, it will make funds available to witches, wizards, sorcerers and apprentices, spellcasters, hobgoblins and alchemists. with a track-record of success in curing medical ailments and a clear plan for how their work will help stop the coronavirus from spreading. "The ideal applicant would be someone like Harry Potter or Hermione Granger," said one source. "Someone with a history of effective magic. I don't go for this hocus pocus stuff myself, but some people do. It's worth a shot."
"We don't want to hear from tricksters and confidence men, sleight of hand artists, illusionists or conjurers; people that deceive for a living," said this source. "We do want to hear from practitioners of voodoo or black magic that are using real ingredients, such as eye of newt and toe of frog. Even approaches based solely on incantations would be within the purview of the Fund. If the magic community can't use the grant money, we may also entertain applications from members of the public who believe the solution is for everybody to eat St. John's Wort and bathe in room temperature water," said our source.
The application process.
Applicants must apply online, describing their proposed treatment, together with two references from credible sources as to the efficacy of measures they have employed to date. The proposals will not be peer reviewed before grants are made. All grant decisions are tentative.
After rejecting an offer, from the Canadian Association of Witches and Warlocks, to manage the DMF project, saying "We've been burned once before doing that", the government decided to establish an inter-departmental committee, chaired by the Clerk of the Privy Council, which will meet weekly, in the new year, to oversee applications and make grants. The programme will be heavily advertised in the last week of the year, with applications due the first of February. The DMF budget must be spent, in its entirety, by the end of the government's fiscal year on 30 March 2021. There is no upper limit on the amount an individual grantee can receive.
"I just hope I'll have time to celebrate Valentines' Day, what with getting this programme off the ground and doling out the money," said a harried Department of Finance official. "Although if I don't, it'll still beat bailing out airlines all day. The people I'll come across will be more interesting."
Reaction to news of the DMF has been swift. Conservative leader Erin O'Toole blasted the government for its failure to include the western petroleum industry in the programme, noting that it would "sooner empty cauldrons than oil wells." Bloc Quebecois leader Yves-Francois Blanchet denounced the DMF as a "blatant intrusion into Quebec's sole domain," and called for a cash transfer to the province instead. New Democratic Party head Jasmeet Singh called for the programme to guarantee that living wages would be paid to all grantee staff. The Green Party issued a statement saying all applications under the program should be subject to an environmental effect assessment, noting that three species of bat are endangered in Canada.
News of the DMF did not go down well with provincial premiers either. Ontario premier Doug Ford was quoted as saying "This sounds just plain silly. Mind you, I am still madly in love with Chrystia Freeland. Do you know if she got that bouquet of roses, I sent her last week?" British Columbia premier John Horgan noted how his province was quite capable of findings its own remedies, noting the vast acreage in his domain dedicated to the growth of magic mushrooms. "Maybe Justin Trudeau would like to come to BC and see how to magically turn a minority into a majority," he said.
The DMF is expected to be well received.
Federal officials expect the DMF will go down well with the public, which may just prefer to watch the night skies for wizards zooming past on broomsticks than to suffer through a looming circuit breaker lockdown. These are desperate times, and desperate times call for desperate measures, don't they?
Some readers seem intent on nullifying the authority of David Simmonds. The critics are so intense; Simmonds is cast as more scoundrel than scamp. He is, in fact, a Canadian writer of much wit and wisdom. Simmonds writes strong prose, not infrequently laced with savage humour. He dissects, in a cheeky way, what some think sacrosanct. His wit refuses to allow the absurdities of life to move along, nicely, without comment. What Simmonds writes frightens some readers. He doesn't court the ineffectual. Those he scares off are the same ones that will not understand his writing. Satire is not for sissies. The wit of David Simmonds skewers societal vanities, the self-important and their follies as well as the madness of tyrants. He never targets the outcasts or the marginalised; when he goes for a jugular, its blood is blue. David Simmonds, by nurture, is a lawyer. By nature, he is a perceptive writer, with a gimlet eye, a superb folk singer, lyricist and composer. He believes quirkiness is universal; this is his focus and the base of his creativity. "If my humour hurts," says Simmonds,"it's after the stiletto comes out." He's an urban satirist on par with Pete Hamill and Mike Barnacle; the late Jimmy Breslin and Mike Rokyo and, increasingly, Dorothy Parker. He writes from and often about the village of Wellington, Ontario. Simmonds also writes for the Wellington "Times," in Wellington, Ontario.
More by David Simmonds:
Tell a Friend
Click above to tell a friend about this article.