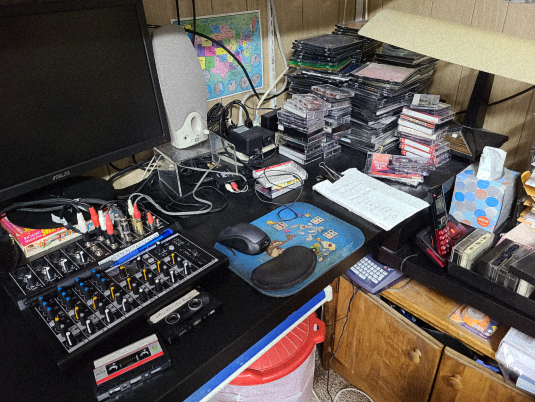 Do you ever have that feeling when you know you have something, but aren't sure under what rock it lies? I just had that happen to me this week. Not once, not twice but three times, all having to do with tapes I knew were here at the center of the aircheck universe.
---
The Keith Allen Tapes.
---
I was talking to my radio friend and real estate agent, Keith Allen, because I found one aircheck of him on WBZO-FM B103 labeled as a full five-hour shift. Imagine my surprise when he called me and said it was only 13 minutes. "Hmmm," I said, "let me see if I have anything else."
I did find one ninety-minute cassette, converted it to digital and sent it to him. Then I found another fifteen tapes, which he gave me years ago. I found these tapes in a bag, in my side table. by the computer.
When I told Keith of those tapes, he got excited. That's because he's been out of radio for years. This is literally his career in a bag. I promised to work on them since I had the time and send them one at a time as I finished.
There was one tape from WHTF-FM Harrisburg, PA, dated 7/27/84. He was twenty-five years old, just starting to work in radio. I hate to say it and he agreed with me, but he was a puker. That's a DJ that manipulates his voice up and down and it does sound sort of like someone puking.
The next tape was from WBLI-FM 106.1, right here on Long Island. Keith admitted to me he was not ready for that job and was surprised he lasted a little more than a year. This tape was from November 1993 and August 1994. There are thirteen more tapes to go.
Tapes transfer in real time, then edited. Editing means removing the gaps between the tape stopping and starting the recording. That's a great deal of work and time.
Along with stash of tapes belonging to Keith Allen, I found another one my first radio sister, Robin Marshall, gave me years ago before she moved from Long Island to North Carolina. So far, I've converted her very first show on WAPP-FM 103.5, when they were calling themselves The Apple and Hot 103. This was just a month or two before they changed format from Top 40 to Rhythmic.
---
Dayparting formats might confuse.
---
As a radio guy, I found it very confusing, changing format, often, or having two formats going at once. I can't imagine what the average listener must have thought. They were playing Top 40 and rock, calling itself by two different nicknames? That was bizarre, but may have worked as a dayparting strategy.
Robin told me she was working at WAPP-FM and WPIX-FM at the same time. I found her first show at WPIX-FM, as well. Although WAPP-FM was more upbeat, WPIX-FM was the "Bright Sound of New York." It aired a strange mix of music from soft to light rock.
Robin changed her delivery for each station, which is an act of considerable ability. It sounded strange, as well. I asked her about it and said not only didn't she remember, but they were her first radio jobs.
Imagine getting your first on air job in New York City. That is almost unheard of in any major market, but she did it, lasting in the New York radio market for close to thirty years. I wonder what else I'll find in her bag of goodies.
Fast Jimi Roberts, as I mentioned a few columns back, sent me his radio life in a box; that was over a year ago. I told him it would take a year to convert everything; he was fine with that. Being home during the Covid-19 pandemic gave me the time to finish his collection. He was so happy that he cleaned his basement and found yet more tapes to send me.
The next collection that bubbled up from the past was the late, great Big Ron O'Brien (born Richard Walls). While reorganising a closet recently, I found three more boxes of tapes.
The first was a box that fellow radio and aircheck collector Scott Lowe gave me over nine years ago. Scott had converted one box of tapes. The second box was leftovers.
I started on those and discovered these tapes were from lasts stations O'Brien worked. The real treasure is the box that Big Ron gave me when we met and had lunch in 2007. It's mostly reel-to-reel tapes; I have yet to start on those.
I must watch the reels more carefully than I watch the cassettes. Reel-to-reel tapes can start shedding the top layer. I've had this happen before and it can be an unholy mess.
---
King of the Aircheck Universe.
---
I figure I'll be out of work another two-to-four more weeks. I much work, converting and sorting tapes, ahead of me. I'm not the King of the Aircheck Universe for nothing.