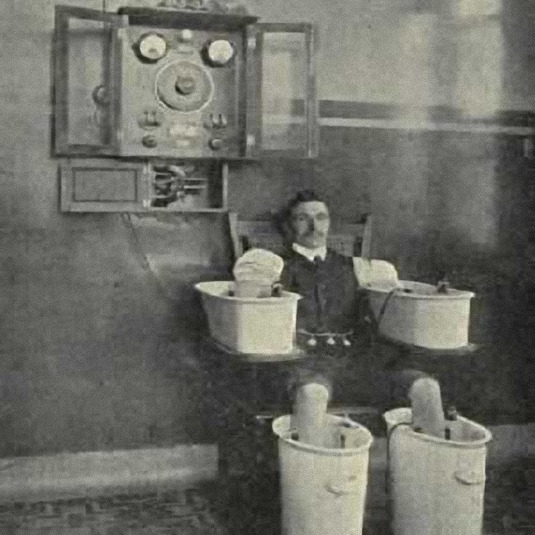 Early form of physio-therapy aka rehab.
Last year my 90-year-old father moved in with my family after living in Syracuse, New York, for over thirty years. His building was sold; it was going downhill fast; it was time for him to move.
---
Learning his way around my neighbourhood.
---
The first several months, with us, had him getting used to the area, driving to his appointments and hopefully not getting lost. That only happened one time. Then I started to notice little changes, and they weren't good. He was getting more forgetful and his health was slowly changing.
All that came to a head on Tuesday, 10 March 2020. Dad had been to see a physician, mostly for some blood work, but he just didn't seem right. After a quick stop to do a couple of errands and a quick lunch, I took him to the emergency room at NYU Winthrop Hospital, in Mineola, at 11:30 am. He was processed quickly. Then the waiting began.
NYU Winthrop is where all our family physicians are affiliated, so they could see most everything that was going on when he was there. The problems he was having included slurred speech, swollen hands and falling at home. I thought he might have suffered a concussion or a mini stroke.
After an hour of waiting, they finally got him on a stretcher in the emergency room itself. He didn't have a cubicle of his own, just a place in the hallway. They were arranging for a CT scan and an MRI, if the CT scan didn't show anything. He finally had the CT around 4 pm and the MRI around 6. Both came back negative for a concussion or a stroke. That was the good news.
Then the bad news arrived. Somehow, he had been infected with cellulitis, an infection in the very bottom layer of the skin. It was in his left calf; it was warm and tender to the touch. After many blood tests, they started him on an IV antibiotic.
Dad had been on the blood thinner, Coumadin, also known as Warfarin, for many years. In the past couple of months, his blood thickness had become an issue. If it's too thick, it could cause blood clots. If it's too thin, he could bleed to death.
The only solution I could see was finally putting him on a newer drug with fewer side effects. The physicians finally agreed to put dad on Eliquis. I only knew of Eliquis because of all the television commercials for it during prime time. The best thing is there is no more monthly blood test required.
Around 9 pm, I was in the waiting room, tired, hungry and wondering what was going on. They were obviously going to admit him. When would he get into a room?
I had seen this blonde woman running around all day and she stopped to ask me what was going on? I said, "Thank you, I've seen you all day, who are you and what do you do?" She introduced herself as Eve, the Customer Service Concierge.
I told her there was no information forthcoming, could she please find out what was going on? She left and returned with the charge nurse, who said that yes, dad was going to be admitted. He was just waiting for the doctor to come by.
---
Hospital time is in a parallel universe.
---
I told them I had another hour left in me to stay. Lucky me, ten minutes later Eve found me and said the physician was with dad. Yes, he was going to be admitted, but she wasn't sure when he was going to get into a room.
I got home around 10 pm. I had a bite to eat. I was out like a light by 11 pm.
Wednesday, after work, I went to the hospital to visit. I discovered on street parking can be tough. They do have a parking garage, but it's not cheap and they don't always validate.
The parking gawds must have taken pity on me, as every day I went to NYU Winthrop, I found a spot right in front of the main entrance. Once, I even got a meter with 24 minutes left on it.
I visited every day after work. Trying to get all the information to make an informed decision is difficult. I never spoke to the same physician twice. It was maddening, to say the least.
One thing I must state right now is this; what you see on television about hospitals and real life aren't even close. You are not taken right away. You will wait. The chance of being left on a stretcher in the hallway is high. It's also very difficult to talk to the same doctor more than once.
They finally decided to release dad on Monday, but there was no rehabilitation facility with an open bed. I spent most of my day off on Tuesday talking and texting with the case manager to find a place to go. I had many choices, but the top two were full.
My third choice was a place in Plainview, NY, which I knew because forty years ago we lived five minutes from it and the mother of a friend used to work there. It's only a short ride from our house now, so the ride isn't bad.
I arrived at 6:30 pm, as they were closing the doors now at 7 pm. I waited patiently for an hour and no dad. The receptionist called to find out what was going on; she was told he wasn't going to be there until after 8 pm.
I grabbed a quick bit to eat. By 8:15 pm the ambulette showed up and we got him settled into his room. It held four men. While Dad was the oldest, he was in better shape than two of the others.
I didn't get out of there until almost 10 pm. I was hungry and tired and couldn't wait to get home. Dad called me the next morning at 8:30 pm, asking where he was and telling me he would never forgive me for putting him there. I just laughed and said if was for his own good.
I went to see him later that day and he was getting acclimated at least. The next day, Thursday, I got a call from rehab centre, saying that non-medical visitors were no longer being allowed due the COVID-19 virus scare.
I had a bag of clean clothes I had intended to bring with me that night. Now, Marcy must bring them on Sunday or me on Monday.
My greatest concern, other than his health, is what will the medical bills be like? Yes, health insurance will cover most of it, but dad certainly doesn't have the money to cover all those other copays. NYU Winthrop does have financial assistance and most likely will forgive most, if not all the bill.
---
If you have elder parents, be wary.
---
If you have an elder parent, keep an eye out for actions that are not normal and physical signs that weren't there before. They life you save may be theirs.