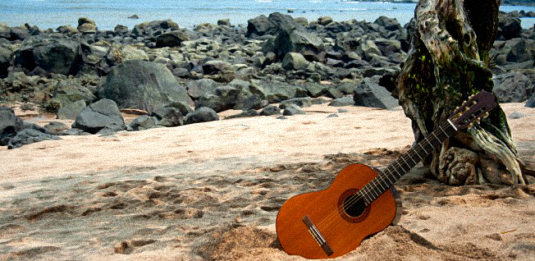 What music would you take with you if you were to be stranded on a desert island? That's the starting point for the long running British radio series Desert Island Discs. Each episode, a celebrity is asked to choose eight recordings, one book and a luxury item with which to while away their time on an imaginary desert island, and to explain their choices.
---
A good way to start chatting.
---
For my money, playing the Desert Island Discs game is a good conversation starter. There is nothing worse than being stuck at the Christmas dinner table next to a taciturn uncle Norm, whom you have never encountered before, is the third or maybe fourth husband of your chatty aunt Josephine. At bests, he may respond with a mere grunt if asked to pass the cranberry sauce.
By contrast, everyone has an opinion about music because it's entirely subjective and no choice can be wrong. The only change I make to the radio show format when I ask the Desert Island Discs question is that I limit the choice to five recordings and I forget about the book and luxury item.
To go straight to the heart of the matter, let me presume you tried to open a conversation with me and asked the Desert Island Discs question. I am to respond and provide you with my five recordings. What would they be?
I would have to plan it out carefully, to make sure I had covered the waterfront of my musical tastes. I would have to include one classical recording and one jazz recording, along with one pop music recording, one bluegrass, one Celtic, one gospel and one country. There, that's seven already; I'll have to lump my categories together or drop one or two of them.
The classical piece I would choose would be the Pablo Casals recording of the "Six Suites for Cello Solo," by J.S. Bach. There is something completely transcendent about the piece. Casals, playing from the 1930s, has never been surpassed.
As for the jazz piece, I would choose Stephane Grappelli performing "My Other Love," a late-in-life treat from the great jazz violinist and former playing partner of Django Reinhardt, revealing that his other love had been the piano. His gentle touch, particularly on "Three Little Words," is entirely consistent with his violin style.
As far as pop music is concerned, I would have to take the Beatles with me. I could use up all five of my choices on them, but for this exercise I'm limiting myself to one. The only issue would be which of their many styles do I choose: early rock and roll Beatles or late orchestral Beatles?
---
Split the Beatles down the middle.
---
In the end, I would split it down the middle and take the "Rubber Soul" album. It's got "Michelle" and "In My Life" as well as "I've Just Seen a Face" and "Norwegian Wood." Coming close, but just finishing out of medal contention, is "Docabilly," by Doc Watson, it's his tribute to 1950s pop.
Three down, two to go. I'm going to combine my gospel and bluegrass music categories by choosing the Nashville Bluegrass Band album "To Be His Child." The recording is a mix of a cappella and bluegrass gospel songs sung with great reverence for their origins; it's great fun to sing along with. Several of the band members, who are studio musicians based in Nashville, played on the soundtrack of the movie, Oh Brother Where Art Thou.
One left and I'm abandoning my Celtic music loyalty to the Barra MacNeils for "The Traditional Album," and to Aly Bain and Phil Cunningham for "The Ruby," and going instead with a country music singer who made a classic album of American standard songs. The Willie Nelson cover of "Stardust" fits all the bases; "Stardust," "Georgia On My Mind," "Blue Skies," "All of Me," "Unchained Melody," "September Song," "On the Sunny Side of the Street," "Moonlight in Vermont," "Don't Get Around Much Any More," "Someone to Watch Over Me," with his warm, intimate voice and spare backing from producer Booker T Jones. The album, which has sold five million copies and counting, is available in a reissued format that also features Nelson singing "Scarlet Ribbons"; his performance leaves me breathless.
Also just failing to make the cut are John Prine, specifically his second release of country male-female duets, "For Better, or Worse," beautiful mix of the sentimental and the corny, "The Lost Tapes," by Ian and Sylvia"' the 2019 release featuring live performances of their folk classics together with some country standards.
There, I've laid out my top five choices and sneaked in reference to another five. There are some stunning omissions; no Gordon Lightfoot, Bruce Cockburn, Leonard Cohen or Joni Mitchell, for instance. Where are Simon and Garfunkel, George Jones, Al Jolson, Drake or Britney Spears?
---
Try the challenge on Uncle Norm.
---
If my choices haven't given you a window into my soul, I hope they've given you a hook on which to continue a conversation. Try the Desert Island Discs gambit with your uncle Norm. It's likely to get you further than asking him to pass the cranberry sauce. Who knows, his five choices could all be heavy metal music.