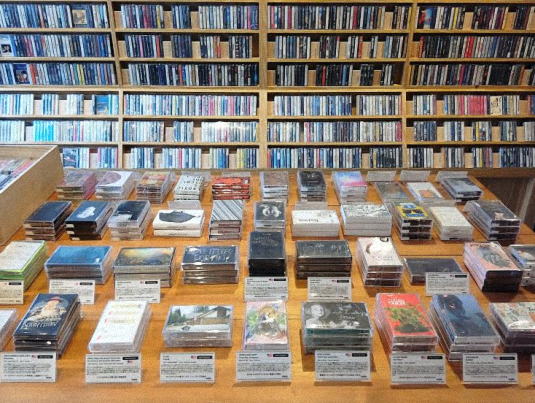 Just recently, we moved, but didn't merely move. We went from a rental to a home we purchased. Yes, we are homeowners, again.
---
A move up-ward.
---
Granted, it's a townhome, a condominium, not a full-fledged, stand-alone house, but it is, after 359-easy-payments, all ours. That's awesome given how low we sank during the Great Recession.
To move, we had to pack our possessions; this was a big job, as we had been living in the house we were renting for two years. We amassed a load of possessions. We had a garage sale to sell some items, donated many to charities, which became used to seeing us pull up and into the drop-off lane; we sifted through the rest.
Some objects were trash and thus tossed. We filled one side of the garage with garbage bags. Of course, we checked every nook and cranny of every shelf and cabinet for all the little items we tucked away.
That's when I found it, a twenty-five year old cassette tape. I know the age because I had written something memorable on the cover of the case: Alexa, which is the name of my daughter name. We bought the cassette when she was a toddler.
I couldn't remember where we bought it; at one of those shops that deal in customized tapes for sure. Those shops sold cassettes of cute songs for little children, each song tailored to a specific name. Of course, once you listen to the tape, you can tell how they set up the songs to easily insert the name of a child.
Many nights, settling her down to sleep, we popped that tape into her player and hit play. The woman would start singing the first of many Alexa songs. Boilerplate songs for babies likely made a great deal of money.
---
My daughter did not care for NKOTB.
---
As Alexa got older, she lost interest in the tape. It was for babies and she was a big girl, now. She moved on to show tunes and the latest boy bands, but not New Kids on the Block (NKOTB). Nope, she was never into that boy-band.
The Alexa tape was lost. It was stuck off in a box on the back of some shelf and forgotten. Then I found it.
I was a bit tempted to toss it in the trash. After all, it's not as if Alexa would want it and it's an old cassette tape. Do people even use those anymore?
I doubt I could find a tape player; it'd be like searching out a VHS player. Those things are downright antiques now. Yet, I couldn't do trash it.
As with so many other elements of her childhood, that old tape is a memory, I cling to each of those like a thirsty man with a leaky canteen. I want to relish each memento of her childhood. Now, the tape now sits on a shelf of my new office in our little townhome. Someday someone may throw it away, probably Alexa, but maybe another family member rifling through my forgotten trash, after I'm gone.
I don't care. Like a long litany of objects, such as her baby teeth, early ceramic artistic efforts, preschool drawings and some of her writing efforts, the tape represents a single piece in the mosaic that is my life with my child. For now, it sits in a place of honour in my study and in my heart; it serves a very vital role in my life. It connects me with my child, our shared past and the joys I've known in my time on this world.
---
Keepsakes define who we are.
---
Strange isn't it, the odd hodgepodge of keepsakes we can collect over the course of our lives? I seem to recall finding a similar assortment of knickknacks in my dad's things and my grandmother and grandfather's house. I guess this packrat compulsion is genetic. I wonder what trinkets Alexa will collect in her life. I just hope they give her as much joy as mine have given me in our times together.
Combining the gimlet-eye of Philip Roth with the precisive mind of Lionel Trilling, AJ Robinson writes about what goes bump in the mind, of 21st century adults. Raised in Boston, with summers on Martha's Vineyard, AJ now lives in Florida. Working, again, as an engineeer, after years out of the field due to 2009 recession and slow recovery, Robinson finds time to write. His liberal, note the small "l," sensibilities often lead to bouts of righteous indignation, well focused and true. His teen vampire adventure novel, "Vampire Vendetta," will publish in 2020. Robinson continues to write books, screenplays and teleplays and keeps hoping for that big break.
More by AJ Robinson:
Tell a Friend
Click above to tell a friend about this article.