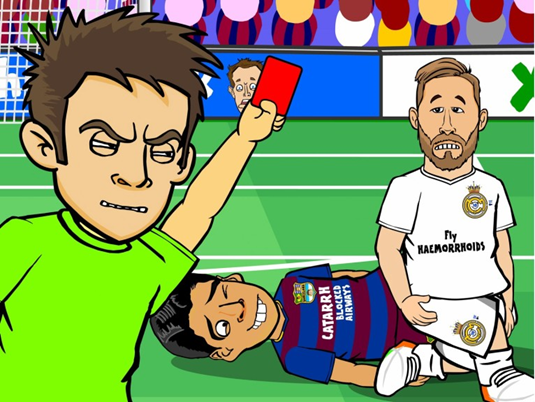 Every four years, from mid-June to mid-July, I down tools and immerse myself in the FIFA World Cup of Soccer. It's just as well that the fire alarm hasn't gone off recently. I would probably be oblivious to it.
---
Winnowing the field.
---
Pre-tournament play downs reduced the field of contenders to thirty-two, excluding, along the way, such perennials as Italy and the Netherlands. In the group stage, eight groups of four teams play one another. The two teams, in each group, with the best record, advance to the 16-team knockout stage. We then see the number of teams halved, successively, in winner-take-all matches until one team emerges the overall winner on 15 July.
I admit, it's fundamentally irrational to be interested in a tournament that involves young millionaires simply putting on a different shirt and playing with or against the same people they played with or against during the club soccer season. It's hard, in this Trump era, to work up fervour for nationalism, when nationalism has become a synonym for mean-spirited selfishness.
I rationalise my fervour by saying Canada did not qualify. Therefore, whatever team I cheer on doesn't root in nationalistic sentiment. I simply like the team I cheer on for whatever reason.
I do like to cheer for somebody, even though studies have shown that cheering from in front of the television has no influence on the outcome of games. The question is not whether I cheer, but on what basis I choose to cheer. Perhaps, I like the colour of the team jersey.
I should logically be cheering for England; that's where I was born. Yet, the English team perennially disappoints. It's a running joke that, if you leave the room with five minutes to go and England comfortably ahead by two goals, you will return to discover the Germans are set to win on penalty kicks.
England advanced to the knockout round, this time. This is probably a bad thing. It's better to get the losing out of the way now rather than postpone the inevitable.
---
The sacrificial victim.
---
This time, the fate of being sacrificial victim to the Germans has fallen to the Swedes. The Swedes gave away a last-second free kick that the Germans put in the top corner of the net to win by a single goal. That will teach them for inflicting IKEA on the world.
Who do I cheer, if not for or after England? Not Germany, as it is responsible for so much soccer grief in England. Not Russia based on solely on Putin. Not Portugal, as its superstar, Cristiano Ronaldo, is a pouting show-off.
Not Argentina, even though it was the runner-up last time and Lionel Messi hasn't yet won the Cup, but because they'd sooner begrudge one another than play creative soccer. Not France, as it's more fun to watch them recriminate than it is to watch them celebrate. Not Spain, because it had its turn at the limelight and just fired their coach a couple of weeks ago, poor fellow.
I definitely won't cheer for Brazil, which has the world's highest paid player, Neymar. He spent most of the last year working on a trade from Barcelona to Paris St. Germain and most of this year trying on a trade, out of France, to Real Madrid, the archrivals of Barcelona. I reluctantly add Croatia to my not-cheer-for list, because their star player, Luka Modric, who plays for Real Madrid, possibly committed perjury in a case involving his player transfer fees. Finally, not Serbia because of its struggles dealing with more and more migrants and asylum seekers; it has inadequate reception conditions, a weak asylum system, considerable police abuse, severe censorship and so forth.
There are still many choices for which to cheer. Switzerland produces great chocolate and has two players whose names have an "X" in the names, Xherdan Shaqiri and Granit Xhaka; both scored stunner goals in the knockout round; Denmark, the home of Hans Christian Andersen, and Belgium, which is Hercule Poirot territory, are decent little European countries, with strong tea. I would love to have included Iceland, but they haven't made it out of the group stage.
I can further widen my horizons and choose based on geography. If I want Central or South America, I can choose Uruguay, as I already passed on Argentina. If I want Australia, there is its never-give-up team, which hung on by its fingernails until the last moment. If I want the Orient, I can go with Japan. If I want the Middle East, there's Iran, which is actually in Asia. If I want Africa, I can go for Nigeria or Senegal.
Right now, I'm leaning towards Mexico. Mexicans have been on the receiving end of some nasty invectives from Trump, just as have Canadians. Perhaps, if Mexico wins, all the harsh words will be forgotten and forgiven and the team will get an invitation to the White House, if they promise to attend and make a financial commitment to his wall.
---
Soccer and personality.
---
I imagine a psychologist could develop a personality profile for me based on my need to have a team to cheer for and my selection criteria. I just hope that she keeps her findings to herself. If not, I may become a mojo for bettors.
Some readers seem intent on nullifying the authority of David Simmonds. The critics are so intense; Simmonds is cast as more scoundrel than scamp. He is, in fact, a Canadian writer of much wit and wisdom. Simmonds writes strong prose, not infrequently laced with savage humour. He dissects, in a cheeky way, what some think sacrosanct. His wit refuses to allow the absurdities of life to move along, nicely, without comment. What Simmonds writes frightens some readers. He doesn't court the ineffectual. Those he scares off are the same ones that will not understand his writing. Satire is not for sissies. The wit of David Simmonds skewers societal vanities, the self-important and their follies as well as the madness of tyrants. He never targets the outcasts or the marginalised; when he goes for a jugular, its blood is blue. David Simmonds, by nurture, is a lawyer. By nature, he is a perceptive writer, with a gimlet eye, a superb folk singer, lyricist and composer. He believes quirkiness is universal; this is his focus and the base of his creativity. "If my humour hurts," says Simmonds,"it's after the stiletto comes out." He's an urban satirist on par with Pete Hamill and Mike Barnacle; the late Jimmy Breslin and Mike Rokyo and, increasingly, Dorothy Parker. He writes from and often about the village of Wellington, Ontario. Simmonds also writes for the Wellington "Times," in Wellington, Ontario.
More by David Simmonds:
Tell a Friend
Click above to tell a friend about this article.