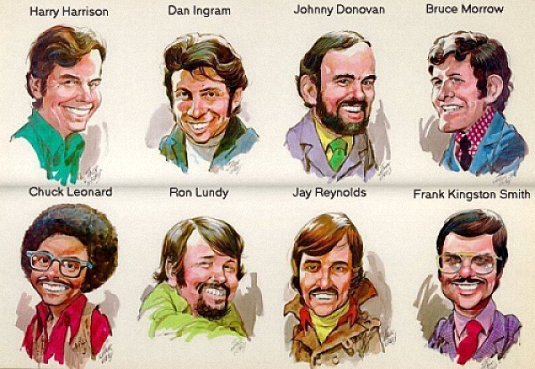 WABC-AM Musicradio 77, on-air line-up, c. 1970.
When I was young, WABC-AM Musicradio 77, in New York City, was my radio station. I listened to it all the time at home and in the car when my parents let me. I remember listening to Chuck Leonard, at night, on a transistor radio under my pillow or using an earphone plugged into the combination Panasonic radio and cassette recorder my grandfather gave me as a birthday present.
• Strong signal and stronger line-up.
WABC-FM was excitement and an adventure. Our family took a trip to Cape Cod in the summer of 1971; "Joy to the World," by Three Dog Night, was the number one song that summer. WABC-AM played it every hour on the hour. We listened to the station all the way from New York to Massachusetts because its signal was that strong, during the day.
Programme Director (PD), Rick Sklar, devised a music and personality experience as none other. The legendary DJ line-up included, at one time or another, a litany of radio legends, such as Dan Ingram, Ron Lundy, Harry Harrison, Herb Oscar Anderson, Bruce Morrow, Scott Muni, Jack Carney, Farrell Smith, Chuck Leonard, Johnny Donovan, Frank Kingston Smith, Charlie Greer, Jay Reynolds, George Michael, Bob Cruz, Steve O'Brien and many others. Even John Rook, a programming legend in his own right, was on-air during a strike in the 1960s.
The voices went silent on 10 May 1982, when WABC-AM changed from music to news and talk. "Battered by low ratings and the loss of its once-vast teen-age audience to FM stereo stations," Frank J Prial wrote in the New York Times,* "WABC-[AM] is doing what has been done by all but one of the AM stations owned by the American Broadcasting Companies." For many listeners, that's the day the music died.
Dan Ingram was a top DJ on a station loaded with top DJs. One of the funniest comments he made, on-air, was that WABC-AM, the number one station in New York City, was also the number thirteen station in Pittsburgh, almost four hundred miles away. That's how strong the WABC-AM signal was at night.
In the 60s and 70s, a 50,000-watt clear channel signal meant something. WBZ-AM, in Boston, was heard, north-to-south, from Labrador to Barbados, east to west, from Bermuda to the Rockies. Today, that reach means little and no one cares, except for DXers, those women and men that listen at night for radio stations as far away from them as possible.
By 1982, music on AM radio was in a rapid decline. The end, for WABC-AM, began when upstart WKTU-FM, Disco 92, beat it by a large margin in the radio ratings for December 1978. Cornered, WABC-AM adjusted its music and made some changes with the on-air staff, but to no avail. Rick Sklar built WABC-AM and the Top 40 Format; with him gone from day-to-day operations, a Disco station stole one-quarter of its audience, in an instant.
• FM sounded better than did AM.
In the 80s and 90s, the superior sound quality of music on FM, compared with AM, led to the end of WABC-AM as well as most AM music stations throughout the USA and Canada. Newly competitive, FM enjoyed lower operating costs than did personality-driven super stations, such as WABC-AM. FM revenues soared as AM revenues declined.
Profit drove programming decisions. Once launched, News and Talk was remarkably less expensive to operate than a personality-drive station; a top-rated music personality might earn $250,000 a year, whereas a newsperson might earn $100,000 or less. Moreover, news and talk attracted a stable audience and hordes of advertisers interested in them.
On 27 June 2019, Cumulus Media sold WABC-AM to Red Apple Media. Greek-American businessperson, John Catsimatidis, is Chief Executive Officer (CEO) of Gristedes Supermarkets and, currently, does two talk shows on WMCA-AM 970, in New York City. Now he owns an iconic radio station for a paltry $12.5 million.
Here's what I speculate is going to happen with WABC-FM. Former WPLJ-FM PD Dave LaBrozzi was named the PD of WABC-AM and sister WNBM-FM by Cumulus. He should stay at WABC-AM and build a station similar to WKXW-FM, NJ101, in Trenton, NJ; it's a news and talk station during the week and music on weekends.
After WABC-AM dropped music, talker Bob Grant dominated afternoon radio in New York City. He was controversial. He was polarising. He had a huge audience that loved him or hated him, but either way listened. What's to say that WABC-AM couldn't succeed making Curtis Sliwa the new Bob Grant?
In May, when I was at the WPLJ-FM studios, I met Curtis Sliwa in the elevator. He formed the Guardian Angels, in 1977, to combat violence and street crime on the New York City subway. In 1990, Sliwa began a populist radio talk show on WABC-AM. He's still going strong. WABC-AM could team Sliwa with another personality for afternoons or let him do his own show during mid-days.
The Musicradio 77 days are long gone for WABC-AM and AM radio, in general. Perhaps it's time for one big station to try that format again. WABC-AM could bring back Steve O'Brien, to anchor a DJ staff that knows New York City.
WABC-AM might do news and talk, Monday to Friday, with music on weekends. That's what consultant Walter Sabo did for NJ101, in Newark. Dave LaBrozzi, the current PD of WABC-AM, could fashion a ratings winner in a year or less.
• Hire talent and keep hands off.
If John Catsimatidis, the new owner of WABC-AM, is wise, he'll invest in talent and keep his hands off the day-to-day. There are many opportunities for a new WABC-AM. Which one might Catsimatidis chose. We will soon see what happens, as the sale closes in the next couple of months. Here's hoping Catsimatidis puts the shine back on WABC-AM apple.
-----
* 23 February 1982.