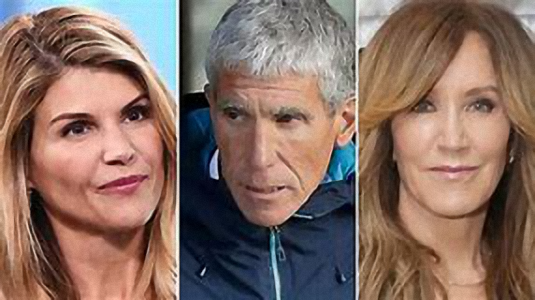 From left, implicated in the university admission scandal are Lori Loughlin, Rick Singer and Felicity Hoffman. Loughlin chose a trail, scheduled for later this year; Singer, the ringleader, pleaded guilty as has Hoffman.
Helicopter Parents, step aside and make way for Snowplow Parents. These parents don't merely supervise the lives of their children; they clear away all obstacles to their children's success. They do whatever it takes, lawful or unlawful.
• University entry by false pretensions.
The leading cohort of Snowplow Parents is the group of thirty-five women and men, including actors Felicity Huffman and Lori Loughlin, charged following an FBI investigation, floridly named Operation Varsity Blues, with bribery and related federal offences, as they sought to have their children admitted, by subterfuge, to prestigious universities. A Canadian from Vancouver is among those charged. Yet, it's so not Canadian; we're more subtle, we donate directly the school, none of this end-running for us.
The tactics used, by the Americans, include having impostors write SAT tests and making up fake sports resumes to get candidates admitted as athletes. With the connivance of corrupt coaches, football players, whose high school didn't have a team, got in as athletes, as did rowers who had never rowed and water polo players who hadn't ever water poloed.
Three people, including a former women soccer coach, from Yale, she took over $800,000 in bribes and was on the lookout for more. The alleged mastermind of the scheme pled guilty; he faces stiff prison sentences, as do those charged.
The amounts of money involved are staggering. The universities involved have begun expelling the students and firing the staff responsible. That will not stop them from facing class action lawsuits brought by those who say their university degrees are cheapened by the admission of otherwise unqualified students as well as those that didn't get in and claim they would have done had the unqualified students not been admitted.
The scandal is forcing universities across the US to review their admissions practices. School reputations compromised, donors may turn away. It's a major, major mess.
I realize you are never going to be able completely to level the playing field on which the rich and the not rich seek to enter university. The parents, of a rich kid, can always hire extra tutoring assistance for him or her. Alternatively, they can donate a large amount of money to the university and hope to see him admitted with many of friend-of-the-university points.
• A misfire on the spirit and letter of admissions.
There is something about these allegations, if confirmed in court, there is a spirit and letter that goes way over the line; it sticks in the craw. These allegations reinforce the cynical view that the rich play by their own set of rules. Moreover, the new rules are crude, raw money, not the old wink-wink, nod-nod of a direct donation to the school or parents that graduated the school, once upon a time.
Did they truly think that if admission to a university was reducible to a transaction, with a financial value, it was okay because they had the means to do so or because it was their children? Did they not appreciate that what they did was wrong? Are people so without a moral compass that they failed to appreciate what effect their conduct would have on those students, playing by the rules and disciplining themselves to hit the books?
Even if they avoided capture, by Operation Varsity Blues, whether these parents have done their children any favours by boosting them in this fashion is doubtful. It doesn't exactly sound like it does much to bolster a sense of self-reliance or self-worth. How prepared are these children to be contributing members of society, ready to push society into the future?
Where does the snowplowing stop? Do the parents next bribe the personnel departments of major employers to get their children ahead? Do they send impostors to apply for jobs on their children's behalf and then do the work?
It's surprising to me how many issues of the day boil down to a question of ethics. It might be the SNC-Lavalin affair; the hiring of an OPP commissioner; the running of a straw candidate for the leadership of Alberta's United Conservative Party or the conduct of family business through the office of President of the United States. We must remark, "if only they had some better sense of the appropriate ethical limits on their actions."
• Uncomfortable chairs are a must.
I hope that the parents charged have an innocent explanation for their part in this mess. If they don't, I hope they listen to philosophy professors lecture them on ethics, going all the way back to Socrates, Plato and Aristotle. I hope they have uncomfortable chairs to sit on. I hope there is an exam afterwards, one they can't hire a ringer to take for them.
Some readers seem intent on nullifying the authority of David Simmonds. The critics are so intense; Simmonds is cast as more scoundrel than scamp. He is, in fact, a Canadian writer of much wit and wisdom. Simmonds writes strong prose, not infrequently laced with savage humour. He dissects, in a cheeky way, what some think sacrosanct. His wit refuses to allow the absurdities of life to move along, nicely, without comment. What Simmonds writes frightens some readers. He doesn't court the ineffectual. Those he scares off are the same ones that will not understand his writing. Satire is not for sissies. The wit of David Simmonds skewers societal vanities, the self-important and their follies as well as the madness of tyrants. He never targets the outcasts or the marginalised; when he goes for a jugular, its blood is blue. David Simmonds, by nurture, is a lawyer. By nature, he is a perceptive writer, with a gimlet eye, a superb folk singer, lyricist and composer. He believes quirkiness is universal; this is his focus and the base of his creativity. "If my humour hurts," says Simmonds,"it's after the stiletto comes out." He's an urban satirist on par with Pete Hamill and Mike Barnacle; the late Jimmy Breslin and Mike Rokyo and, increasingly, Dorothy Parker. He writes from and often about the village of Wellington, Ontario. Simmonds also writes for the Wellington "Times," in Wellington, Ontario.
More by David Simmonds:
Tell a Friend
Click above to tell a friend about this article.