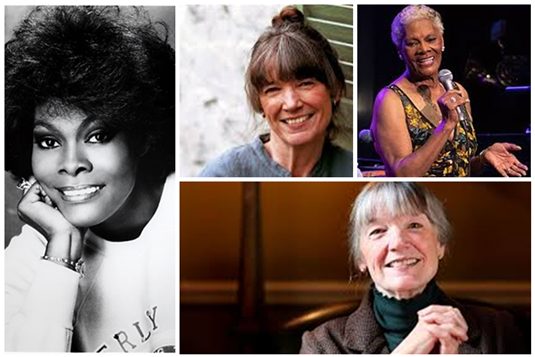 I've fallen for two women recently, a singer and a novelist. The interesting point is I've known of both women for a long time, but ignored them. They were hiding in plain sight.
► I resented Dionne Warwick.
The singer is Dionne Warwick (above left, top right). I first heard her in the early 1960s, when I resented her appearance on the British television show Top of the Pops. Her middle of the road music, represented by tunes such as "Walk on By," was taking away the time available to hear exciting music, such as "I'm Telling You Now," by Freddie and the Dreamers or "Ferry Cross the Mersey," by Gerry and the Pacemakers? Her melodies weren't, well, as melodic as those of Freddie or Gerry.
Fast forward some fifty years plus and you discover me working in an amateur band, with a mixed pop music repertoire. My favourite piece that we perform is none other than that self-same song, "Walk on By." It's fun to play, the tune stays in my head and I now find it quite melodic.
In fact, I've taken to Dionne Warwick so much that we are currently in the process of learning "Always Something There to Remind Me," originally sung by Warwick in 1963. Maybe the next song we'll learn will be another Warwick piece, such as "I'll Never Fall in Love Again," or "Do You Know the Way to San Jose?" At this rate, in seven or eight years we'll have transformed ourselves into a Dionne Warwick tribute band, although we haven't the chops to be able to match her standards and we aren't lookalikes.
I appreciate that this makes me something of a latecomer to the party. Warwick is the second most charted female singer after Aretha Franklin. She remains popular among music directors of Contemporary Adult Pop radio stations.
Part and parcel of this new appreciation of Warwick are the songwriters, Burt Bacharach and Hal David, who brought their quirky style to most of her hits as well as hits by other artists, such as "Raindrops Keep Falling On My Head," sung by B,J. Thomas. Our band plays that one too.
Did you know that in his early career, Bacharach was music director for Marlene Dietrich? Warwick was a background singer on "Mexican Divorce," by the Drifters. Bacharach heard her on this recording and her career took off.
► The novelist is American.
The novelist I discovered recently is the American writer Anne Tyler (above, middle top, bottom right). Again, this is not a personal accomplishment. The world has been reading her novels since the 1970s and my wife has been singing her praises to me ever since the 1980s, when she won the Pulitzer Prize for "Breathing Lessons" and her novel "The Accidental Tourist" became a film.
Tyler amassed an output of some twenty-two novels; the most recent of which, "Clock Dance" has just published. One look at Tyler's face on the dust jacket of the book, even though it has taken on some wrinkles and gray hairs over the years, is enough to convince you that the gentle and compassionate nature of her writing is genuine. I have my work cut out for me. Six months have gone by and I'm still only about a third of the way through her output.
I had always pooh-poohed the work, the writing of Tyler because I had heard it dwelled in the gritty detail of domestic life. Now, I read it for that very reason. Whether the character is young or old, male or female, successful or unsuccessful, Tyler manages to get into what makes him or her tick.
Tyler also accepts family life as an assortment of imperfect people that never reach the proverbial Happy Ending. They cope with what life throws at them. They learn to savour small positive moments.
I read a little about Tyler and learned a Quaker family raised her. She went to a Quaker school. For a time, she lived in Montreal.
She is a disciplined writer. She plots out the details of the personality of every character as well as their life history before sending him or her out to do battle with the other characters she has created.
Thus, I sheepishly acknowledge the merits of two women that have been hiding in plain sight from me for decades. I suppose I could write off the experience as insignificant by saying simply that tastes change. That would be too easy.
► What I have I been missing?
What else have I been missing that I should have appreciated, but dismissed as unworthy of my attention? What am I missing right now that I might belatedly appreciate in years to come? Am I too arrogant to see it? Perish the thought. Besides, even the great Dionne Warwick would have to admit that if she were I, she would have wanted to hear Freddie and the Dreamers, too.
Some readers seem intent on nullifying the authority of David Simmonds. The critics are so intense; Simmonds is cast as more scoundrel than scamp. He is, in fact, a Canadian writer of much wit and wisdom. Simmonds writes strong prose, not infrequently laced with savage humour. He dissects, in a cheeky way, what some think sacrosanct. His wit refuses to allow the absurdities of life to move along, nicely, without comment. What Simmonds writes frightens some readers. He doesn't court the ineffectual. Those he scares off are the same ones that will not understand his writing. Satire is not for sissies. The wit of David Simmonds skewers societal vanities, the self-important and their follies as well as the madness of tyrants. He never targets the outcasts or the marginalised; when he goes for a jugular, its blood is blue. David Simmonds, by nurture, is a lawyer. By nature, he is a perceptive writer, with a gimlet eye, a superb folk singer, lyricist and composer. He believes quirkiness is universal; this is his focus and the base of his creativity. "If my humour hurts," says Simmonds,"it's after the stiletto comes out." He's an urban satirist on par with Pete Hamill and Mike Barnacle; the late Jimmy Breslin and Mike Rokyo and, increasingly, Dorothy Parker. He writes from and often about the village of Wellington, Ontario. Simmonds also writes for the Wellington "Times," in Wellington, Ontario.
More by David Simmonds:
Tell a Friend
Click above to tell a friend about this article.