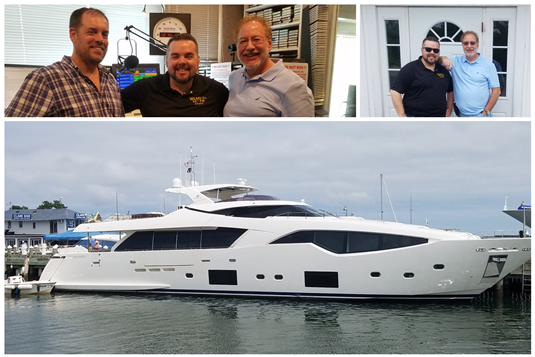 Left, Chris Buckhout, Brian Bannon and Matt Seinberg in a WLNG-FM studio.
Right, Brian Bannon and Matt Seinberg. Yacht renting at $350,000 per week.
The name, Long Island, is for a place on the east coast of the USA. Non-New Yorkers think Long Island is a part of New York City; it isn't. Long Island is an island, east of New York City, between Long Island Sound and the Atlantic Ocean. It is approximately 118 miles, west to east, from Brooklyn and Queens to Montauk. At its widest point, Long Island is twenty miles, north to south.
---
A lesson in New York State geography.
---
Brooklyn and Queens aren't part of Long Island, although both sit on it. Politically, Brooklyn and Queens are boroughs of New York City. Only Nassau and Suffolk Counties are on Long Island and those residents are Long Islanders. Do you have the geography down?
Nassau County is the smaller of the two counties on Long Island, with 1.34 million residents in 452 square miles. Suffolk County is much larger in area with 2373 square miles; its population is 1.5 million. As you mover close to the east end of Suffolk County it splits, around the Peconic River, into North and South Forks.
This summer, my wife and I made two one-day trips, one to each fork. The first trip was to Greenport on the North Fork. Neither of us had ever been out that way, so we thought we'd make a day out of it.
We left on a Thursday morning around 10 am. We drove and made it to Greenport by 11:30 am. We found parking on a side street because who wants to pay $20 to pay in a private lot?
It was a beautiful day, absolutely. We walked up and down Main Road, stopping in some of the small shops. In one store, I found a cool window sticker that had a pair of flip-flops with the words, North Fork, on it. That ended up on my wife's car.
We had heard and read of a restaurant right at the harbor called Claudio's Waterfront Seafood, which is on Main Street, which is what Main Road becomes at Front Street. The restaurant has been in the same spot since 1870. We went there for lunch.
I was in the mood for a lobster roll; my wife had chicken. Hey, when you're in a waterfront village you eat seafood. At $28, the lobster roll was pricey, but it was oh-so good. The server, an older woman, was friendly, attentive and overly polite. In a day and age when service is lacking at so many places, it was refreshing to have someone serve us that wanted to make her customers happy.
There was a carousel in the middle of the harbour side park, which was full of children. There were also many, many boats and a couple of yachts parked in the harbour. One of yachts, someone told me, rented for $350,000 for a week; it accommodated six people (above). Sure, sign me up, for two weeks.
---
Google Maps goofs again.
---
We left Greenport around 2:30 PM. I wanted to head back to the Riverhead area and stop at some wineries. Unfortunately, I didn't program Google Maps correctly and ended up way to south. We had taken the Long Island Expressway, highway 495, out, but somehow ended up on Sunrise Highway going home. That wasn't the plan and I was too tired to double back again, so home we went.
Just this past week, we decided to visit Sag Harbor, the part time home of Billy Joel, is on the South Fork of Suffolk County. One of my radio friends, Brian Bannon, is the afternoon DJ and operations manager of WLNG-FM. That would be my first stop. I contacted Brian a few days before our arrival. I wanted to let him know of the upcoming visit and when to expect us.
You see, I hadn't been out to WLNG-FM since 1978, when John Tyson, my college friend, and I took a road trip to the station. The late Paul Sidney was in charge, all those years ago. Forty years goes by in an instant. I didn't remember much about the station.
Once again, Google Maps got us lost. I called Brian for help. He got us pointed back to the station. He was on a sales call and would be back at the station shortly. Brian had told the mid-day DJ, Chris Buckhout, that we were coming.
As soon as we walked in the front door, there was the main air studio. We introduced ourselves to Chris. Chris and I immediately started talking radio. My wife was slightly fascinated and bored. Brian showed up a few minutes later and gave us a little history of the station that I never knew.
Right now, a trust controls the WLNG-FM. General Manager, Gary Sapiane, along with Rebecca Johnson and Raymond Nelson, manage the trust. Station founder, Robert King, set up the trust to make an easy transition on his death. The Trust owns the building and the land. WLNG-FM has two transmitter towers. The main tower sits on Mount Sidney, named in of Paul Sidney; it's a nice touch.
We stayed at WLNG-FM for an hour or so. Then, we drove up the road to the town of Sag Harbor and parked on Main Street. Yes, every small town has a Main Street. Brian had recommended a local restaurant called The Corner, on Ferry Street near West Water Street, for lunch. We strolled up and down the street, stopping in shops, taking pictures and going to the dock to see the boats docked.
The day we spent in Sag Harbour was a little overcast, but still very nice for walking around. I found a store called, The Landshark, on Main Street, and bought a couple more window stickers, one of which had flip-flops on it. I put that one on my Jimmy Buffett wall in the basement.
---
Jimmy Buffett also lives part-time in Sag Harbor.
---
Oh yeah, did you know that Jimmy Buffett has a house in the North End of Sag Harbor? I asked Brian where he lived, but didn't get an answer. Local secret I guess.
If you visit Long Island and want to see small, quaint historic towns, head out to the East End. Hob nob in the Hamptons, then visit Sag Harbor or Greenport.