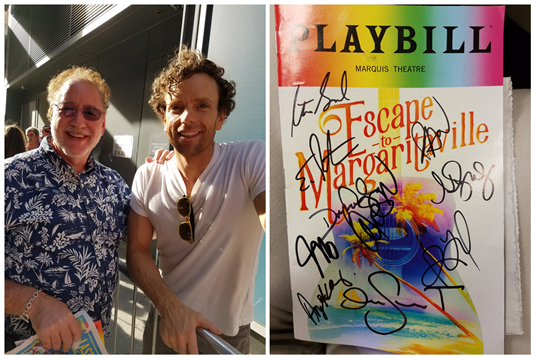 Matt Seinberg with Paul Alexander Nolan; cast autographed Playbill
According to the legendary singer and songwriter, Jimmy Buffett, Margaritaville is a state of mind. It's a place where you can eat, drink and walk around in flip-flops all day with a brand new tattoo. That's where I would like to live when I retire.
---
I did escape to Margaritaville.
---
This past Father's Day, my wife and I went to see the Broadway play Escape to Margaritaville, at Marquis Theater, in the Marriott Marquis Hotel, on 46th Street, in New York City. It's one of the newer theatres and the seating certainly reflects it. It's much roomer, with no blocked views. The older theatres, such as Helen Hayes, Belasco and Neil Simon, although classic in design, are smaller, with some obstructed sight lines and smaller bathrooms, which means longer lines at intermission and the chance to miss the opening of the second act.
As the promotion for the show indicates, "Escape to Margaritaville is more than just a musical. It's a way of life." The show features new, original songs, written for the production, as well as Jimmy Buffett standards, such as "Come Monday," "Cheeseburger in Paradise" and "Volcano." "Escape to Margaritaville invites show goers to take a break from [their] troubles in a place where the sun is hot, the water's warm and the drinks are as cold as … plentiful [and] bask in the sunshine and smiles … [on] the island paradise of Margaritaville …."
I bought the tickets a month or so ago through the Theater Development Fund, also known as TDF. For a yearly fee of $27, I can buy highly discounted tickets and get better seats than from any other ticket source. The only catch is that you don't know what seats you're sitting in until you pick them up the day of the show.
As I'm a huge Jimmy Buffett fan, there was no way I was passing up the opportunity to see this show, which opened on 13 March 2018. It closes on 1 July. Afterwards, it will be on a national tour, probably later in the year.
I've been to more Buffett concerts than I can count on all my hands and feet, with the majority of them being at the Jones Beach Theatre, right here on Long Island. I've also seen him at Madison Square Garden and the Nassau Veterans Memorial Coliseum, as well. Each show is fun and unique in its own way.
As I know all the hit songs and read many of his books, I figured I would understand the Broadway show even better. I was right. I'm sure many audience members got the subtler parts of the show, as well. I know for sure my wife didn't. She's not a fan of Jimmy Buffett.
The storyline, of the show, focuses on Margaritaville Hotel singer, Tully Mars. He has an iffy background and wound up on this Caribbean island by sheer luck. He meets Rachel, who is on vacation, with her engaged friend, Tammy. Tammy is going to marry a fellow she met a couple of months ago. Yes, rumblings of Muriel's Wedding.
Tully and Rachel form the typical boy-meets-girl story. There are many twists and turns for them. Oh yes, there's a great deal of Jimmy Buffett music.
---
Stage door Matt.
---
Although I've been to a number of Broadway shows over the years I never, ever, waited outside the stage door to meet anyone or get autographs. This time, I had to do it. Did I mention there's a great deal of Jimmy Buffett music, new and old, in the show?
It didn't make a difference, to me, that there wasn't a big-name star in the show. I wanted to meet the cast and tell them how much I enjoyed it. What a great job they did. I believe all performers like to hear a compliment, especially when it's true. The security guard tried to discourage the dozen or so people waiting around the stage door. He said, "They may not come out, sign autographs or pose for pictures." He really was a buzz kill, but that is his job.
Finally, the cast began trickling out. First, it was some of the ensemble players and finally the main cast. I met Paul Alexander Nolan, who plays Tully Mars.
Nolan also told me he's appeared in other Broadway shows, such as Bright Star, Chicago, Doctor Zhivago and Jesus Christ Superstar. He also told me the cast calls the little secrets in the show Easter Eggs, after I mentioned I caught many of them. Did I mention there's a great deal of Jimmy Buffett music, new and old, in the show?
In entertainment, Easter Eggs are undocumented features or references hidden in the content. For example, the first Batman film, by Christopher Nolan, has a special trailer, not shown elsewhere; Nolan hid this trailer on disc two of the Blu-ray edition of the first film: go to the third theatrical trailer, enter code 56637 and viola.
Escape to Margaritaville doesn't have complicated Easter Eggs. One is a running joke involving JD, one of the main characters in the musical, looking for his lost shaker of salt. This is a not-so-sly reference to a lyric from the eponymous title song. During Buffett concerts, fans shout, "salt, salt, salt." If you don't know the song or haven't been to a concert, you wouldn't get the inside joke.
I also met Alison Luff. She portrays Rachel. She has such an amazing voice and brings a new life to some classic Buffett tunes. I thought she was gorgeous on stage, but outside she is a truly beautiful woman. She was so friendly and talkative. Alison has also appeared in Les Misérables and Matilda. She was on the national tour of Wicked, too.
Don Sparks plays JD, the soon to be and past boyfriend of the hotel owner, Marley. He owns a plane, but Marley hid the keys because JD drinks too much. What a nice fellow, Don Sparks, I realised this immediately on meeting him; he's been around show business for a long time appearing on Frasier, Cheers, Hill Street Blues and on Broadway in Take Me Out.
The funny man of the group is Eric Petersen. He plays Brick, sidekick of Tully. If he wasn't in this show, I could see him in Sponge Bob Square Pants. He's that kind of zany funny. I was wearing a subdued tropical shirt; he was wearing a very loud tropical shirt. As Brick, he falls madly in love with Tammy, which forms the basis of a few complications. Peterson has appeared in The Big Bang Theory, NCIS, Law and Order and, on Broadway, in School Of Rock, Shrek and Elf.
---
NYC has a secret body of accomplished actors most people don't know.
---
Run, don't walk, if you want to see Escape to Margaritaville before it closes on 1 July 2018 or catch it on the national tour. Either way, grab a margarita before the show. You will have a great time.