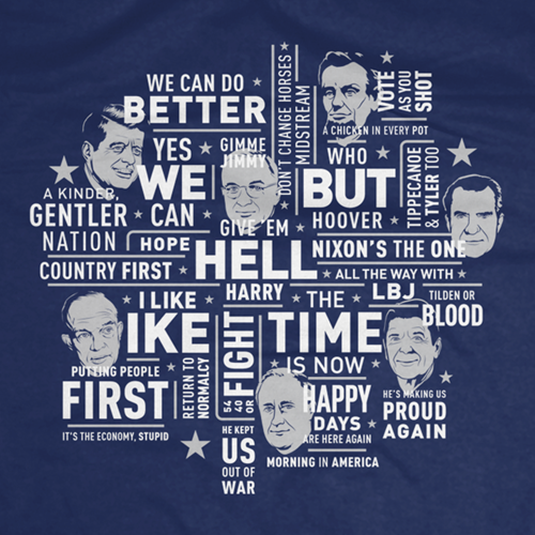 A few years ago, we introduced readers of this column to the work of Dr Max Horscheit, the self-help guru who rose to prominence with his "Five things my Mother could tell me about..." series of books. At the time, he was plugging his latest book "Five things my mother could tell me about a happy life," which were,
1. The first step is the deepest.
2. The glass is never half-baked.
3. Aim for the highest valley.
4. Live for today and plan for tomorrow.
5. Make the moments last a moment.
Well, Dr Horscheit, "call me Dr. Max," has been back in touch. "I've plumbed the entire surface of that mother's advice shtick," he says. "It's time to move on to something bigger." In a bold move, Dr Max is following his own words of advice and offering his services to the White House, as an inspirational sloganeer.
---
The White House is a rudderless horse.
---
"Mr. Trump knows he needs the best," said Dr Max, "and that's me." He said it with a certain degree of confidence. "Besides, it's looking life a rudderless horse over there. What they need is some solid motivational words to live by; to build a team atmosphere, and to recruit good people who ae inspired by the message. That's where i can help." Although there has been no response from the Trump camp, Dr Max is proceeding as if the acceptance of his advice is a fait accompli.
Here's where the readers, of the Wellington Times can play a role. Dr Max has come up with a long list of slogans for the president to use rally his troops and entice new staffers into his fold. He wants to choose from the best of them and submit just five. He is calling them "Catchwords for a Successful Trump Presidency." Times readers are encouraged to scan the list below and vote for their favourite at doctormax.ca.
Here are Dr. Max's best efforts so far,
"'Never a dull moment.'"
"He's got your back"
"Team Trump: try it for one week"
"It's bleaker for leakers"
"You'll turn orange with excitement"
"Come cofeve with us"
"There is no 'We" in Trump"
"Random acts of governance"
"It's Scaramuccifying''
"You are my special counsel"
"Shoulder to shoulder, knee to groin"
"Come make entropy with us"
"Careful, that buck is hot"
"That was an hour ago. What have you done for me lately?"
"Org chart? I thought that was the takeout menu"
"Loose lips sink hair"
"All the rats are already overboard"
"It takes real work to make fake news"
"Has anyone seen the briefcase?"
"You'll get to like Vladimir too"
"You can always recuse yourself later"
"Full benefits, including Obamacare"
"Yes, Godfather"
"Comes with talking Mike Pence loyalty doll"
"It's Ruffians we go easy on, not Russians."
You can't thump Trump, chump"
"All this, without Shakespeare."
There were many more slogans considered. These are the best, for now. More to come, surely.
---
Will these new catchwords motivate?
---
Dr Max is philosophical about the outcome of his initiative. In fact, he seems a little unsure that he's come up with something that will truly motivate the president and the people who work for him. I sense him mentally counting his millions and starting to think he would be just as well off sitting in one of our local pubs downing a few cold ones. Perhaps, if he could encourage the president to chuck it in too, he would be doing the world an even greater service than he would be doing, already, by coming up with his list of catchwords.
Some readers seem intent on nullifying the authority of David Simmonds. The critics are so intense; Simmonds is cast as more scoundrel than scamp. He is, in fact, a Canadian writer of much wit and wisdom. Simmonds writes strong prose, not infrequently laced with savage humour. He dissects, in a cheeky way, what some think sacrosanct. His wit refuses to allow the absurdities of life to move along, nicely, without comment. What Simmonds writes frightens some readers. He doesn't court the ineffectual. Those he scares off are the same ones that will not understand his writing. Satire is not for sissies. The wit of David Simmonds skewers societal vanities, the self-important and their follies as well as the madness of tyrants. He never targets the outcasts or the marginalised; when he goes for a jugular, its blood is blue. David Simmonds, by nurture, is a lawyer. By nature, he is a perceptive writer, with a gimlet eye, a superb folk singer, lyricist and composer. He believes quirkiness is universal; this is his focus and the base of his creativity. "If my humour hurts," says Simmonds,"it's after the stiletto comes out." He's an urban satirist on par with Pete Hamill and Mike Barnacle; the late Jimmy Breslin and Mike Rokyo and, increasingly, Dorothy Parker. He writes from and often about the village of Wellington, Ontario. Simmonds also writes for the Wellington "Times," in Wellington, Ontario.
More by David Simmonds:
Tell a Friend
Click above to tell a friend about this article.