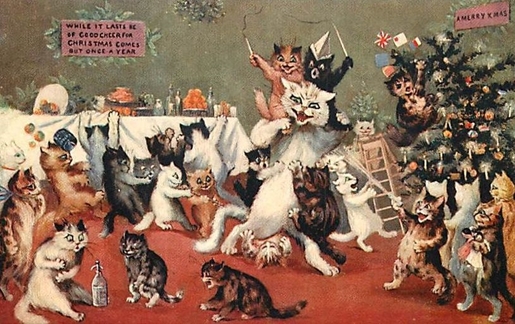 Cat Christmas by Louis Wain (2004)
For the past couple of years, my wife and I have spent Christmas Day in New York City. We see a Broadway play and have to dinner. Last year it rained the entire day and we felt like two drowning cats.
---
An early evening for me.
---
This year, I wasn't able to find Broadway tickets at a price I thought affordable. Thus, we're staying home and relaxing. My in laws will come over for dinner and since I have to work tomorrow, it will be an early night. My wife is off this entire week and she plans to get some things done around the house.
In the past, I've also taken off the week before Christmas, but I didn't have enough vacation time this year to do that. Next year I'll have the time and will reserve that week to do nothing.
The kids are home as well. Michelle is hanging out with Dakota. Melissa is still sleeping.
Last night Melissa was going to sleep at the house of a friend, but changed her mind at the last minute. Usually Daisy, one of our cats, sleeps with Melissa, but not last night. I know at some point we had all three cats on the bed with my wife, Marcy, and I. Their favourite spot behind Marcy's legs, all curled up.
As loyal readers know, I'm not fond of Christmas music. My coworkers know this, too. In fact, many of them complained this year of the music at work, so one of the managers took pity on us and changed the at work satellite music station to a more contemporary mix. It played maybe 6-to-8 holiday songs per hour, instead of non-stop holiday music.
---
Thank goodness, we go back to "regular" music the day after Christmas
---
>
Maybe by Box Day, people will have calmed down from the rush of having to shop and to be rude and nasty in parking lots. The other night at work, it took me over twenty minutes to get out of the parking lot, which normally takes five minutes. Last night, I took the back way and avoided the short main light. This takes me a little north just to go back south, but it was worth it.
A Jewish family tradition on Christmas is to go to the movies and have Chinese food. Last night we had the Chinese instead and no one felt like going to the movies. Today, we're just going to take it easy.
I want to see Star Wars - The Last Jedi, but I'll do that on one of my days off, when it won't be as crowded. The girls briefly thought of seeing the new Pitch Perfect 3, but decided not to go, even after I said I would treat them. I guess they want to take it easy as well.
---
It's a good day to work on hobbies
---
The project I want to work on today is tune up some of my electric slot cars and get them running again. What most non-hobbyists don't realize is that these little cars need maintenance, as do real cars; otherwise, they won't run well, if at all.