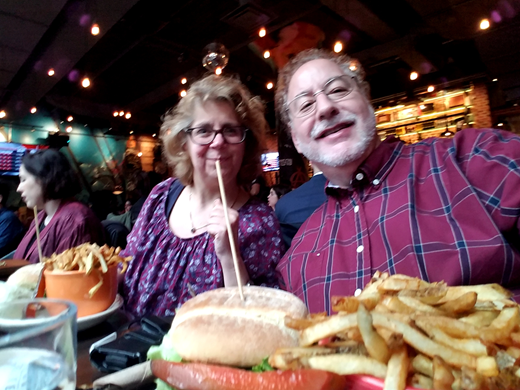 Marcy and Matt, in Montreal
This past January, when we brought Michelle up to SUNY Plattsburgh, Marcy and I decided that when we picked her up in May, we would take an extra day and go to Montreal, as it was only another hour north.
---
A welcome discovery, Delta Hotels, a Canadian chain.
---
We chose a hotel in the downtown area, the Delta, run by Marriott. It was the first I heard of Delta Hotels. It's a high-rise building, with a beautiful lobby and a full staff at the front desk.
Our room was on the 14th floor. Melissa discovered the balcony. I took one picture and had to get back in the room. I really don't like heights. I truly was afraid of getting to close to the railing and taking a picture, for fear that I would drop my phone.
The room was very nice and divided in such a way that I had never seen before. It was several triangles connected, with the sleeping area being the main one, with the hallway and bathroom. I like nothing better than a good-sized bathroom, in a hotel.
We ventured out in search of dinner. One of Michelle's friends had told us about a restaurant that she really liked called La Belle & La Bouef, which means The Beauty and The Beef. Marcy asked someone at the hotel where to find The Beauty and The Beast restaurant; they had no clue. Finding the real name helped.
It was about a twenty-minute walk and we passed many, many great shops and saw all kinds of people. It reminded me a lot of Greenwich Village, in New York City, where you can see almost anything, at any time.
---
Poutine makes your arteries creak.
---
For some reason, I thought the restaurant had steak on the menu, but it was mostly burgers and poutine. What is poutine you ask? It's French Fries with fried cheese curds and brown gravy; you can add almost anything you wish, too. You can hear your arteries creak when you eat poutine.
Marcy and I went with the classic cheddar cheese and bacon burgers, while Melissa had the Mac and Cheeseburger. As it turns out, fried mac and cheese substitute for the buns. It was okay, as the pasta really needed some seasoning.
The burgers were big, juicy and delicious. Having an attractive woman serving us didn't hurt either. What man doesn't like a hot girl pouring water with her boobs in his face?
Why does the walk, back to the hotel, always seem longer? Even with a map, we turned around a little bit, but finally made it. It was a long day of driving and we were tired.
The next day after breakfast, we walked to the section of the city named Old Montreal, which ends at the water. We looked at interesting in windows, smelled the food and took many pictures. There is a plaza called Jacques Cartier that has restaurants, artists and too many souvenir shops. We stopped there for a while to relax and take some pictures.
We stopped at the Complexe Desjardines, which is a downtown mall. It was lunchtime and we needed food. We found the food court and ordered chicken poutine at Valentines. Sure, it might not be the best poutine in Montreal; it was inexpensive at $6 for three people to share. Our arteries creaked some more.
---
Endless urban construction is a defining part of Canada.
---
We got back to hotel and it was around 2 pm. Our plan was to leave by 4 pm, but we were tired from walking. We had no idea how long it was going to take to get out of the city. We noticed a great deal of construction on the way into Montreal, so why take a chance. We also got lost on the way in trying to navigate traffic circles.
Once we got out of the city, there were no traffic and no circles. We decided to stop and get some souvenirs. Melissa got a shirt and cap; Marcy and I got some key rings.
Crossing the border was uneventful. Marcy and I have passports; Melissa had her learner's permit and birth certificate. Wouldn't you know it? Her new passport had come in the mail while we were away.
What did we do about the three cats while we were away? My father-in-law fed them in the morning and our next-door neighbor fed them at night. Dakota was the only one that came out to greet them and get food.
The other two were very happy to have us home. In fact, one of them was jumping on me this morning for food. I think it was either Dakota or Scarlett.
Thanks for having us Montreal. We had a great time!